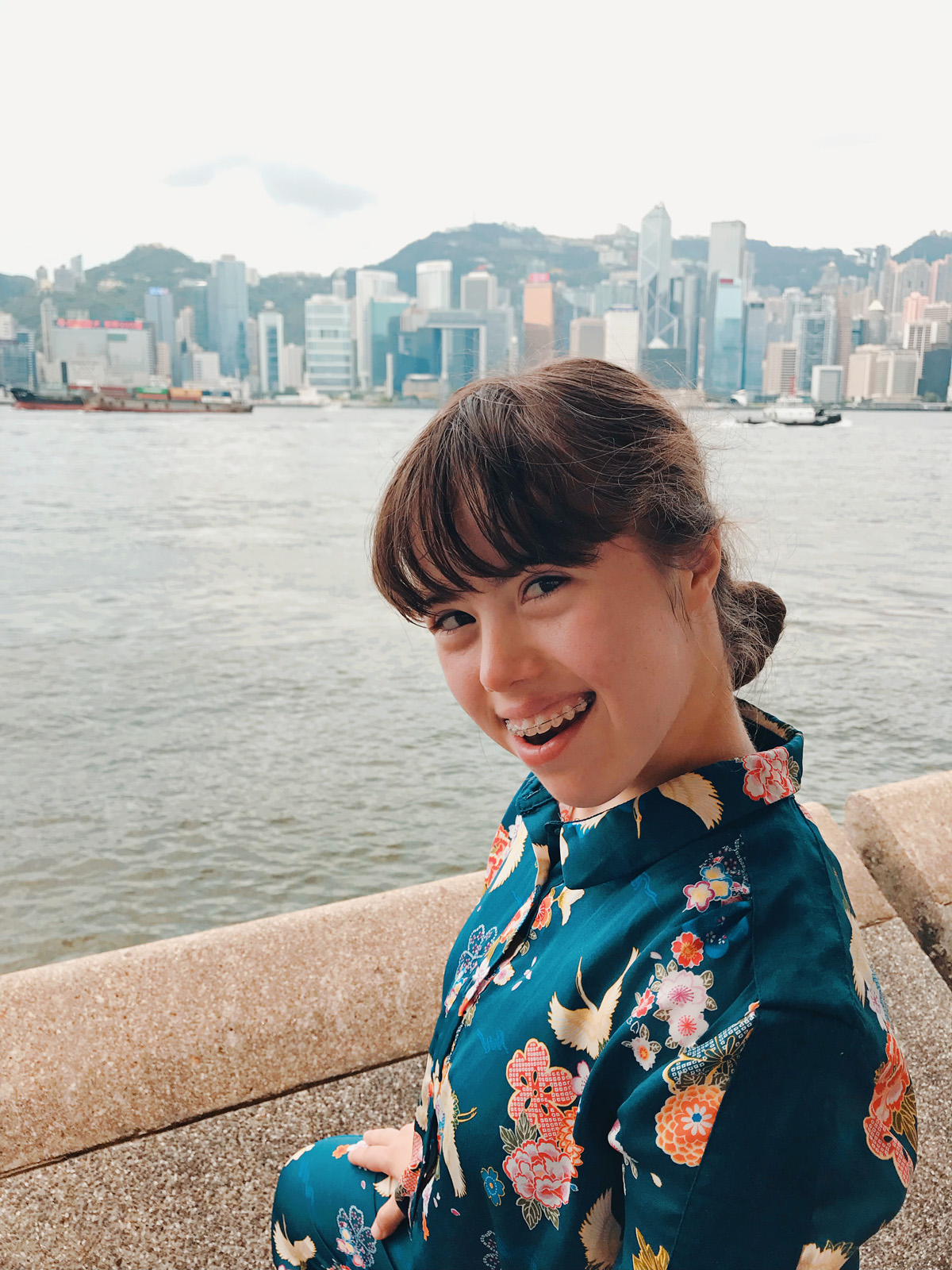 13 Jul

FOUR DAYS IN HONG KONG 香港

Since Hong Kong is just "around the corner" of China's Las Vegas, we thought it would be a good idea to stay here for a few days in order to getting used to the challenging summer heat, high humidity and subtropical climate in this exciting corner of the world before heading to our big event in Macao.

My curiosity to see Hong Kong was especially high, since I had been there before – exactly 25 years ago in 1994 when it was still under British rule.

Since we had taken the 12-hour-night-flight from Frankfurt to Hong Kong, and were welcomed at the airport in the middle of typhoon season with the highest humidity levels, we felt like swimming through soup and my poor girl immediately fell asleep in pure exhaustion while we were waiting for a cab. When our taxi arrived we all looked like as if we had just completed a marathon. 😉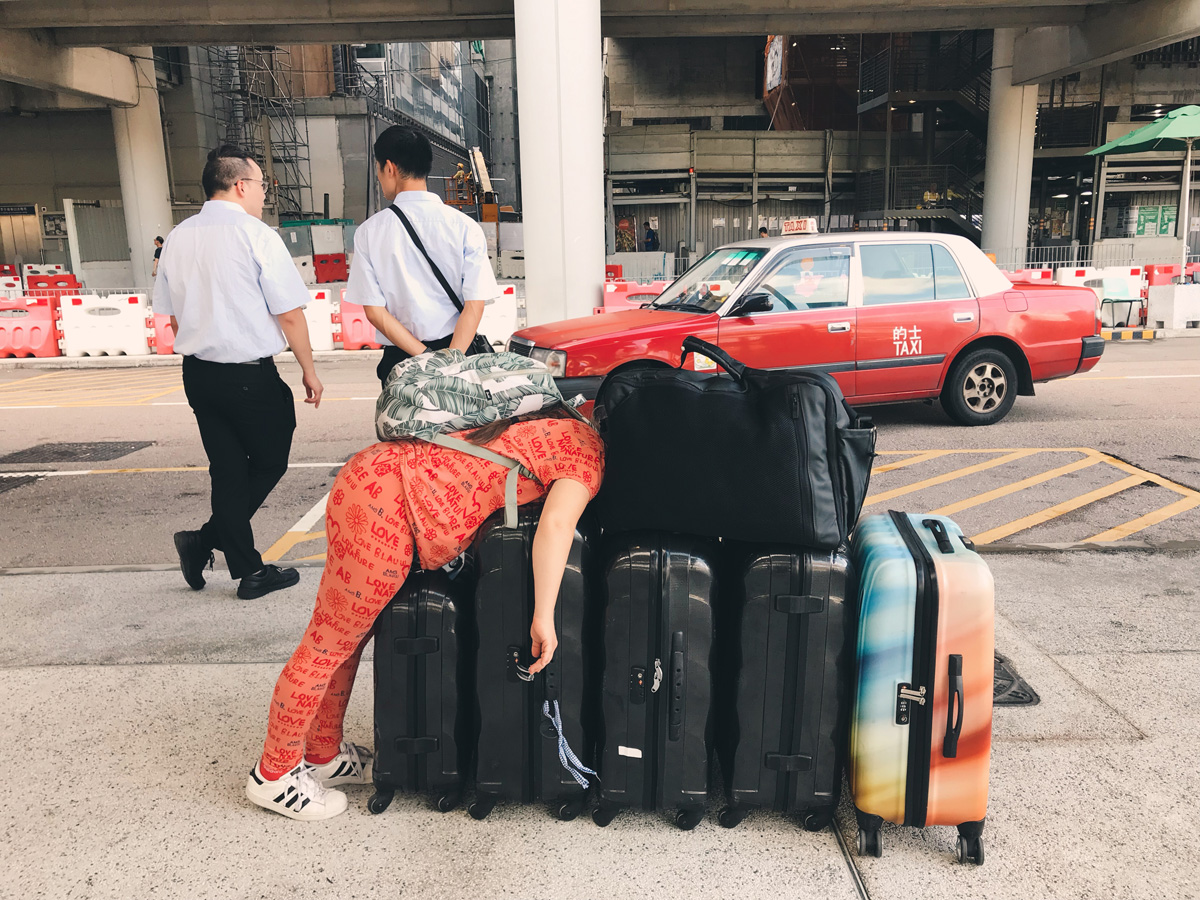 Despite the high levels of humid misery, we really loved Hong Kong. We enjoyed our little stay there, but we definitely just scratched the surface, because four days is just too little to do this incredible city justice. Here are a few things we got to enjoy:
MONG KOK
We arrived in Hong Kong at 4 o'clock in the afternoon, but luckily I could convince everyone to not go straight to bed and take the much desired nap, but instead to refresh real quickly and then explore the urban jungle.
Since our hotel was located in the middle of this forest of high rises, Hong Kong's old and charismatic Mong Kok, one of the most densely populated neighborhoods in the world, we started out there and were immediately intrigued by all the lively colors, various markets, neon signs and all kinds of shops where you literally find everything from Gucci bags to dried fish to real Jade to alive snakes.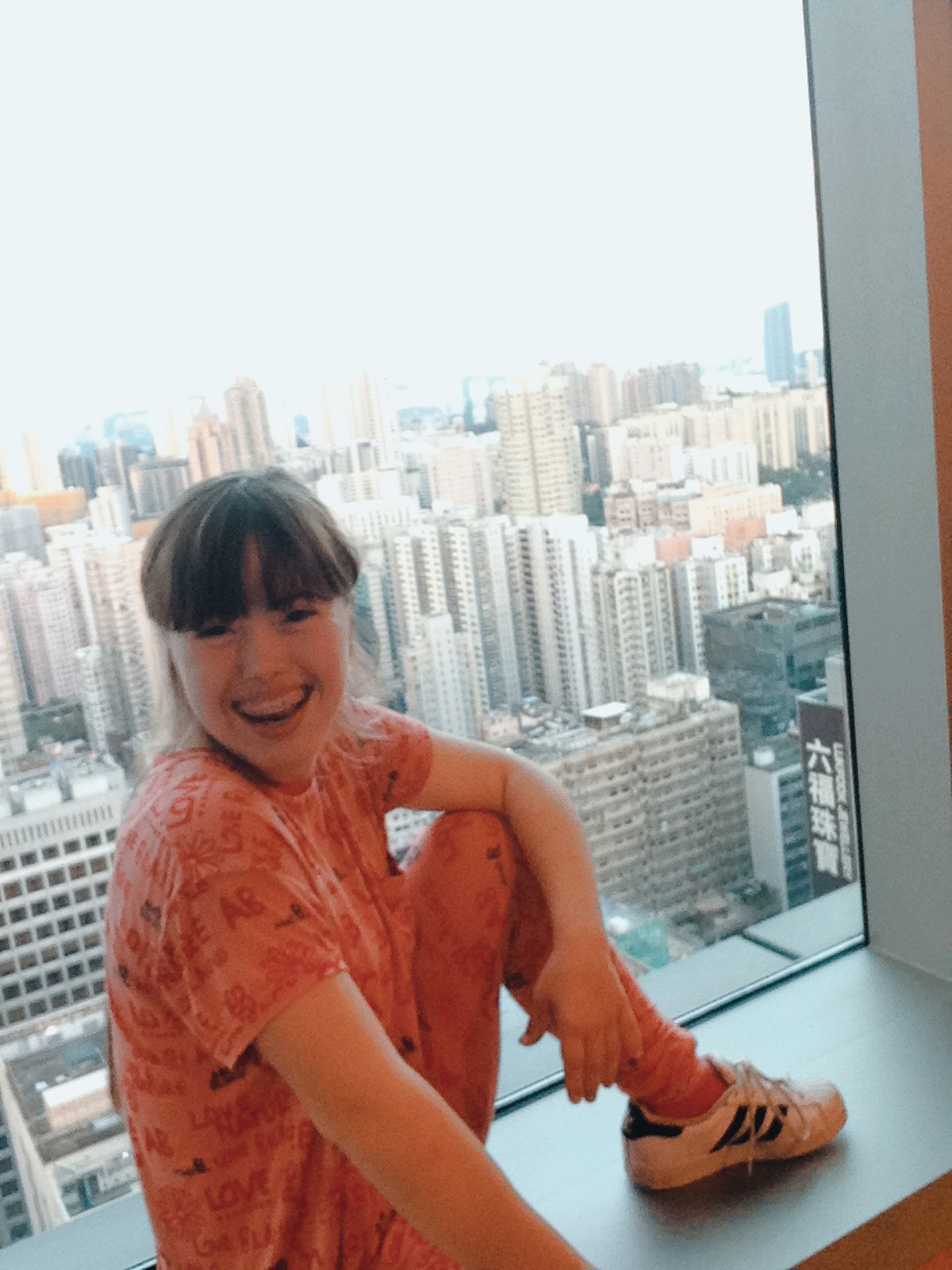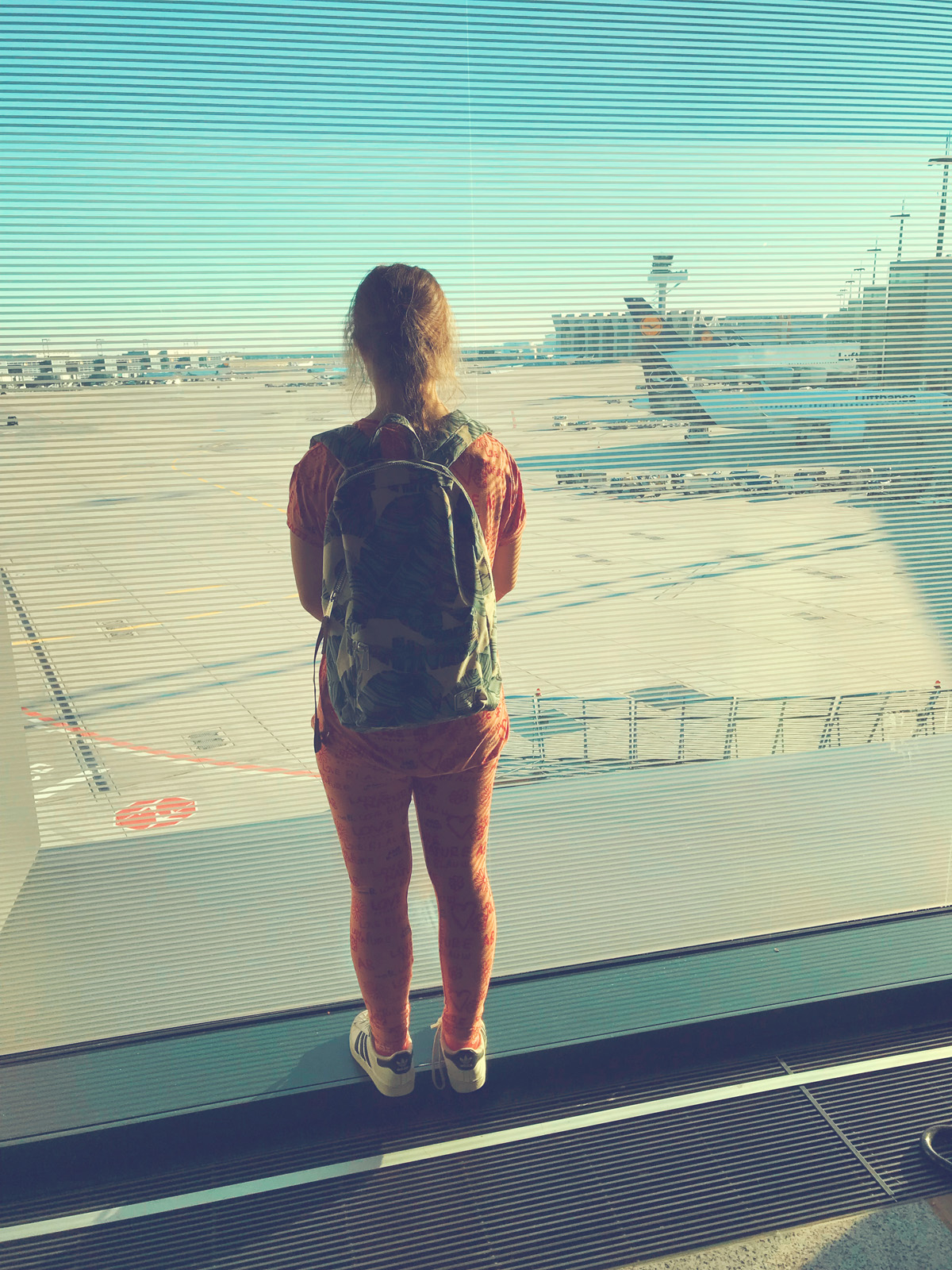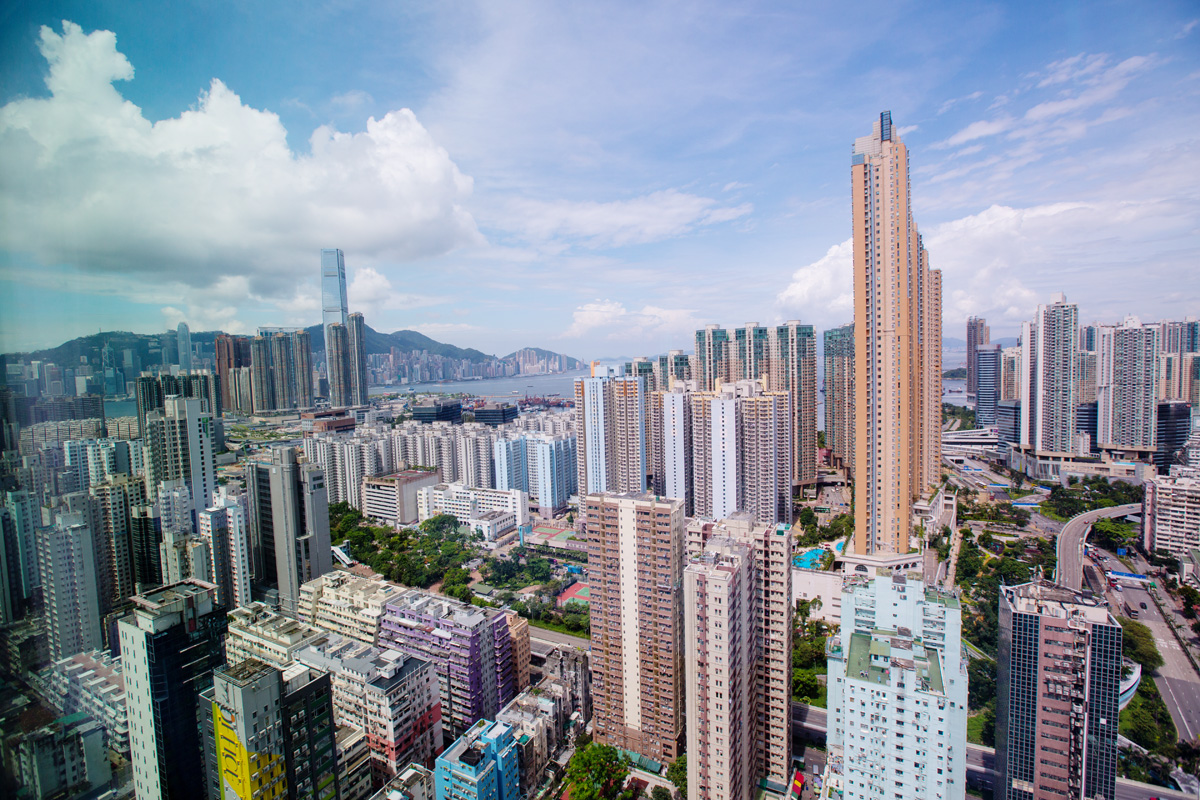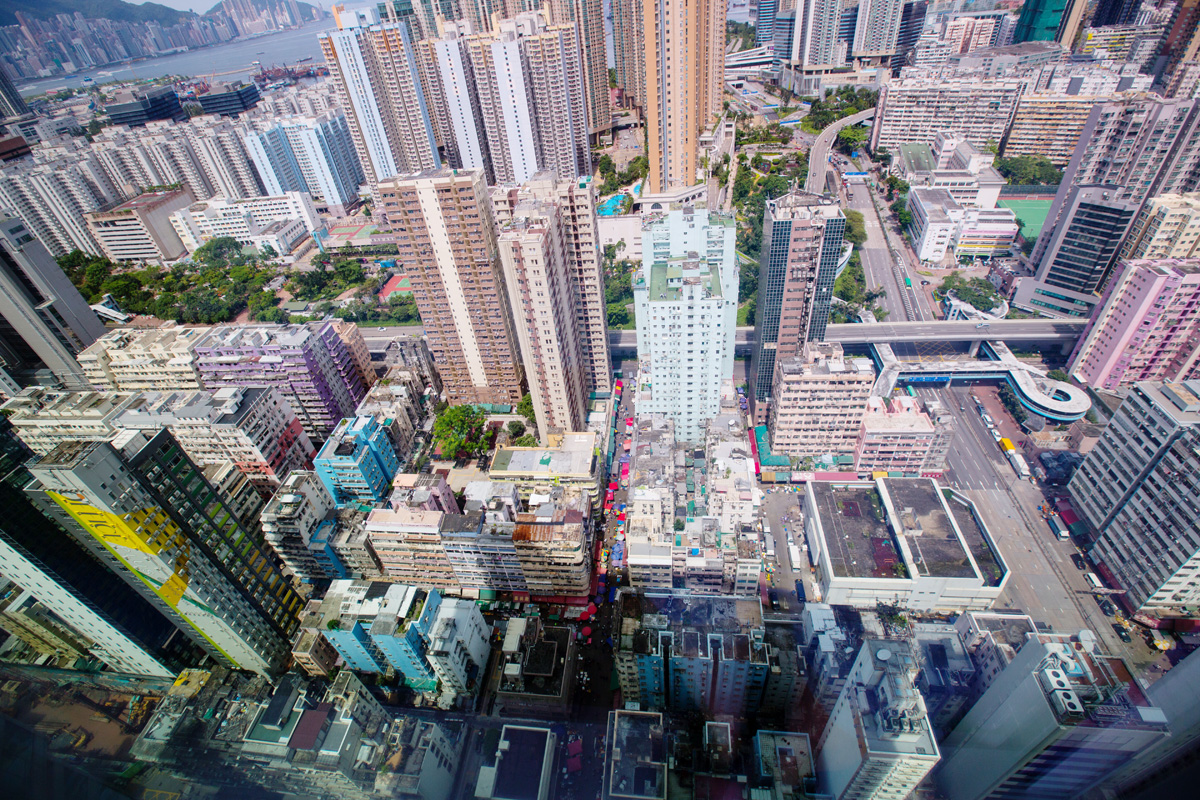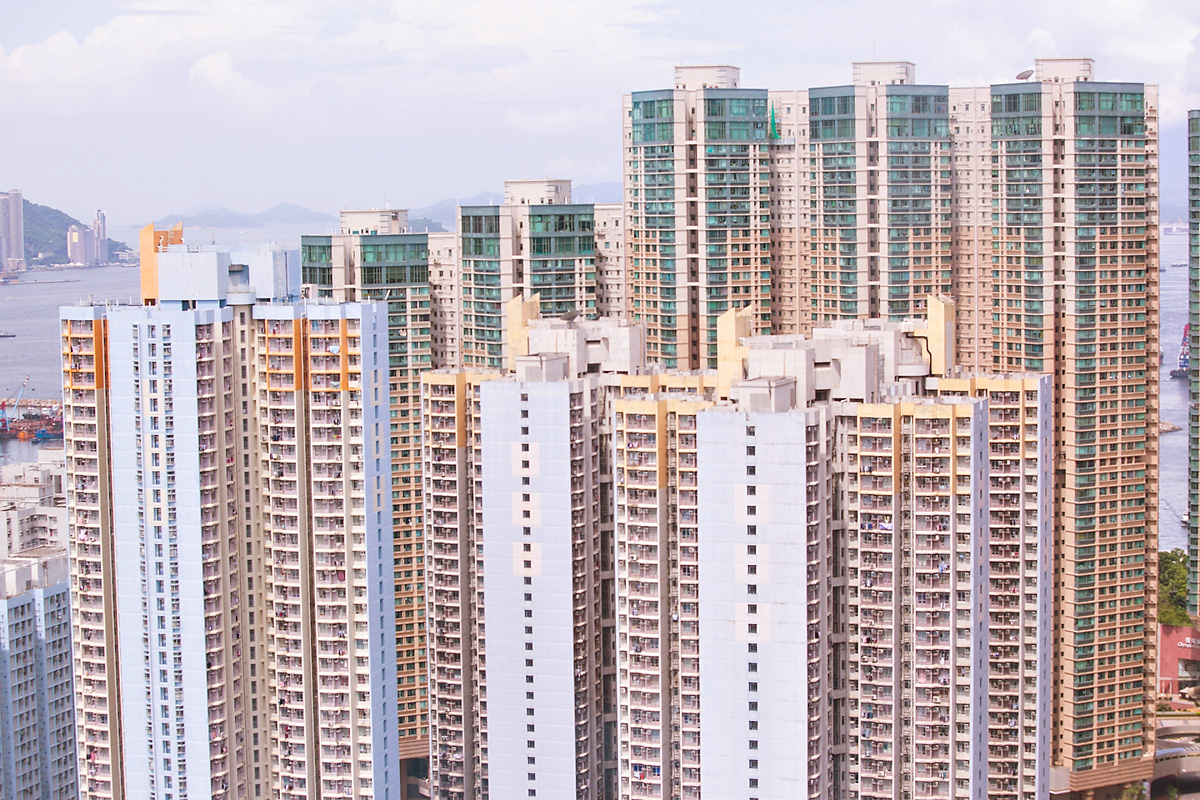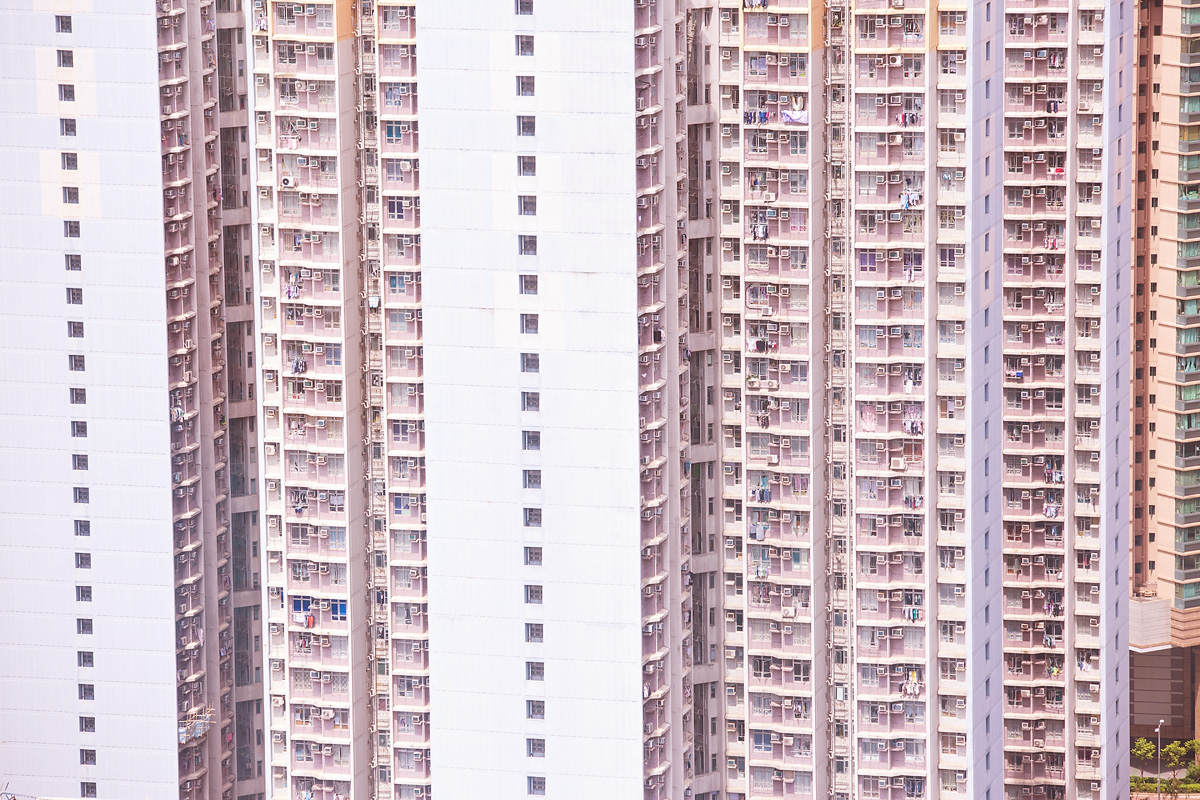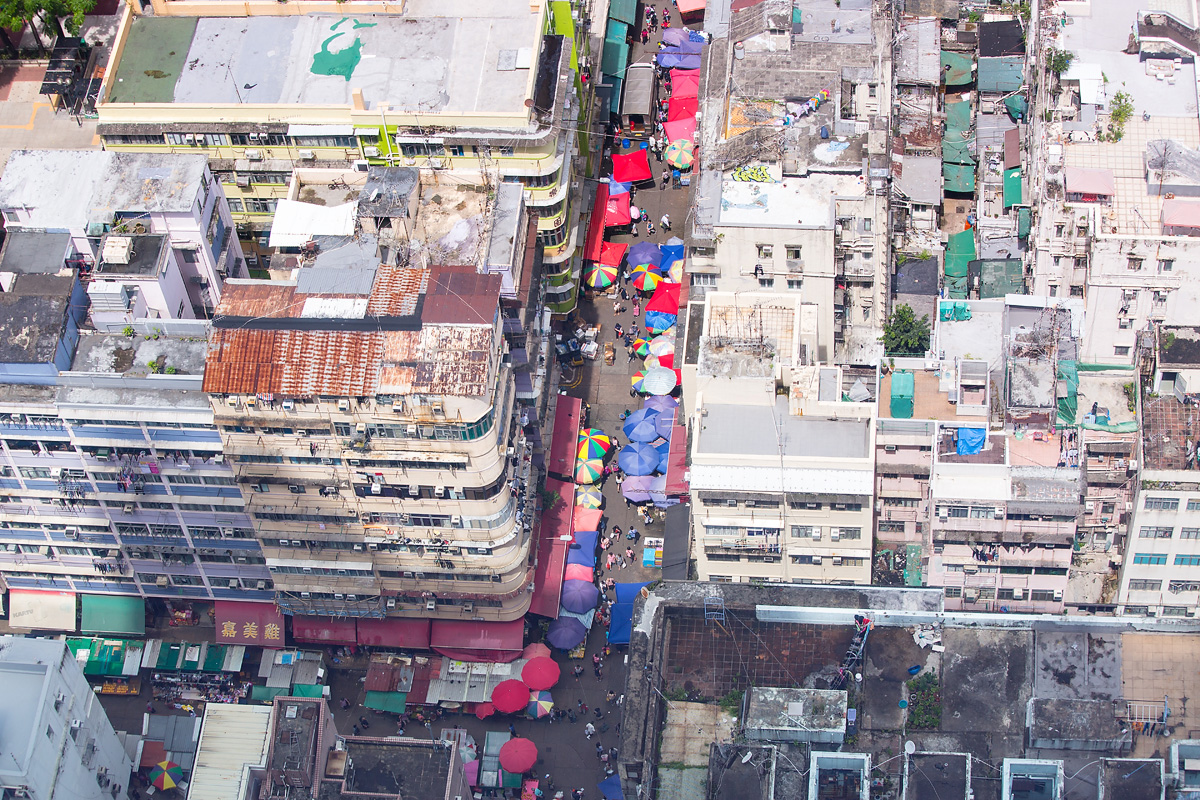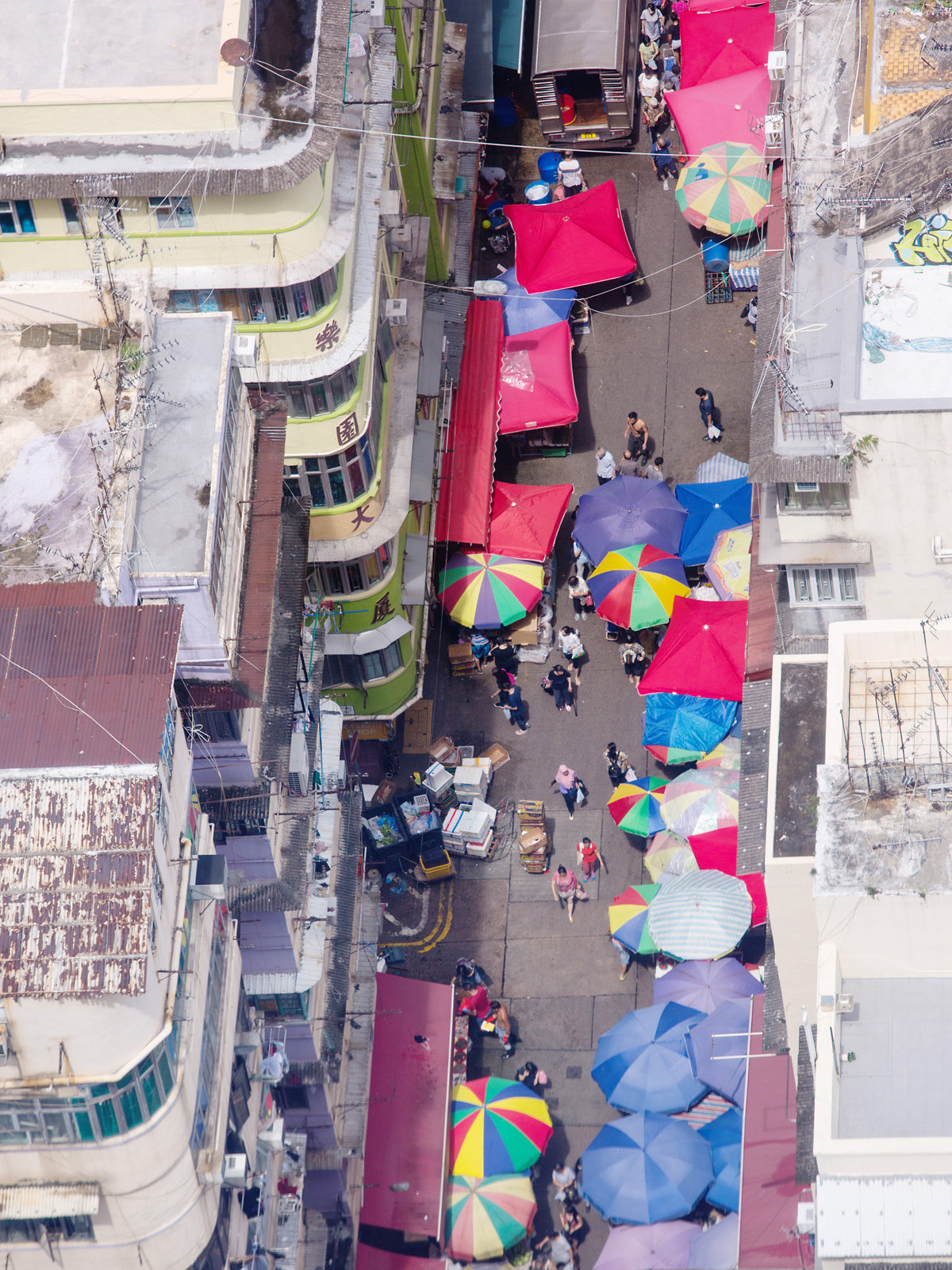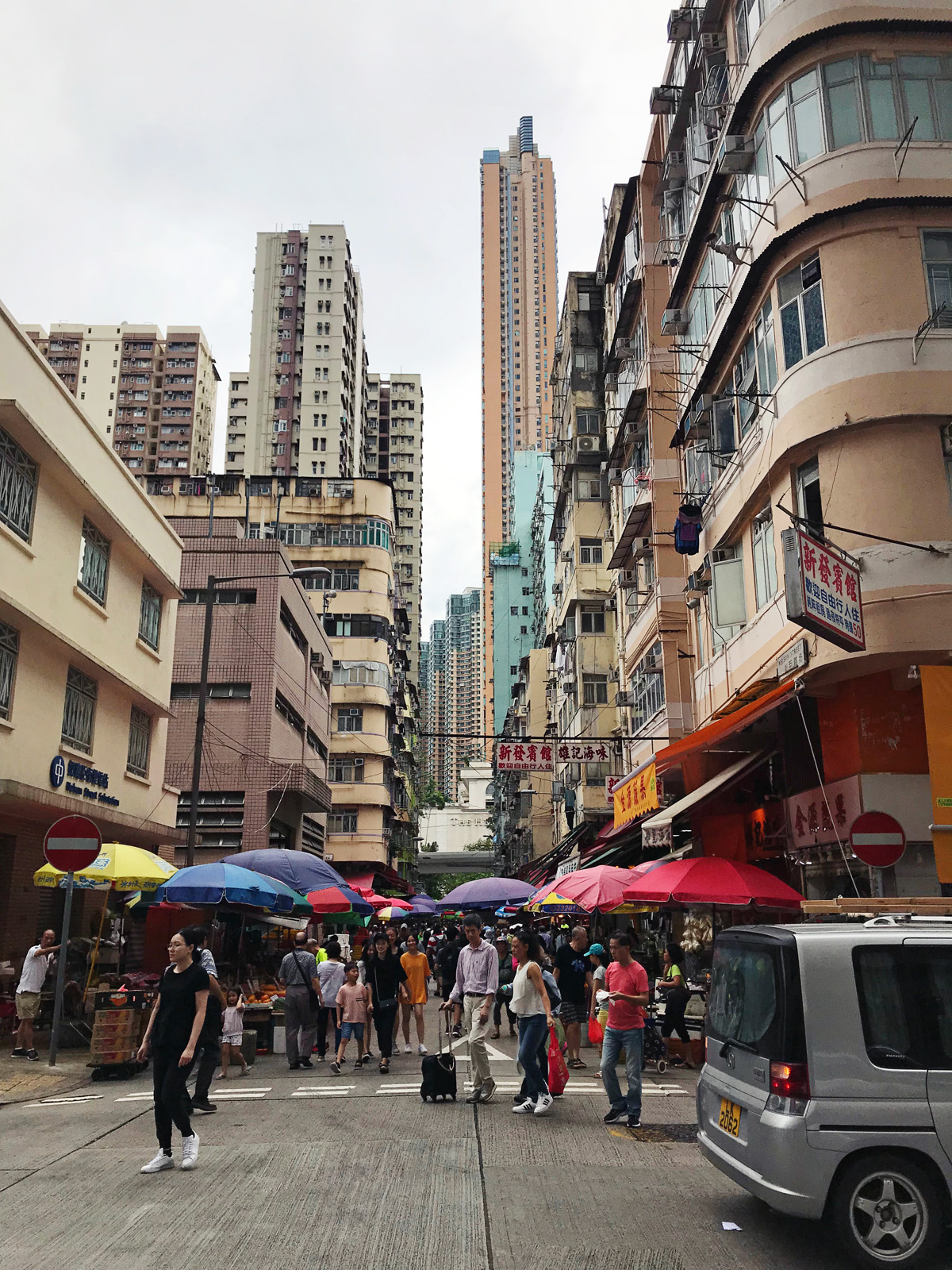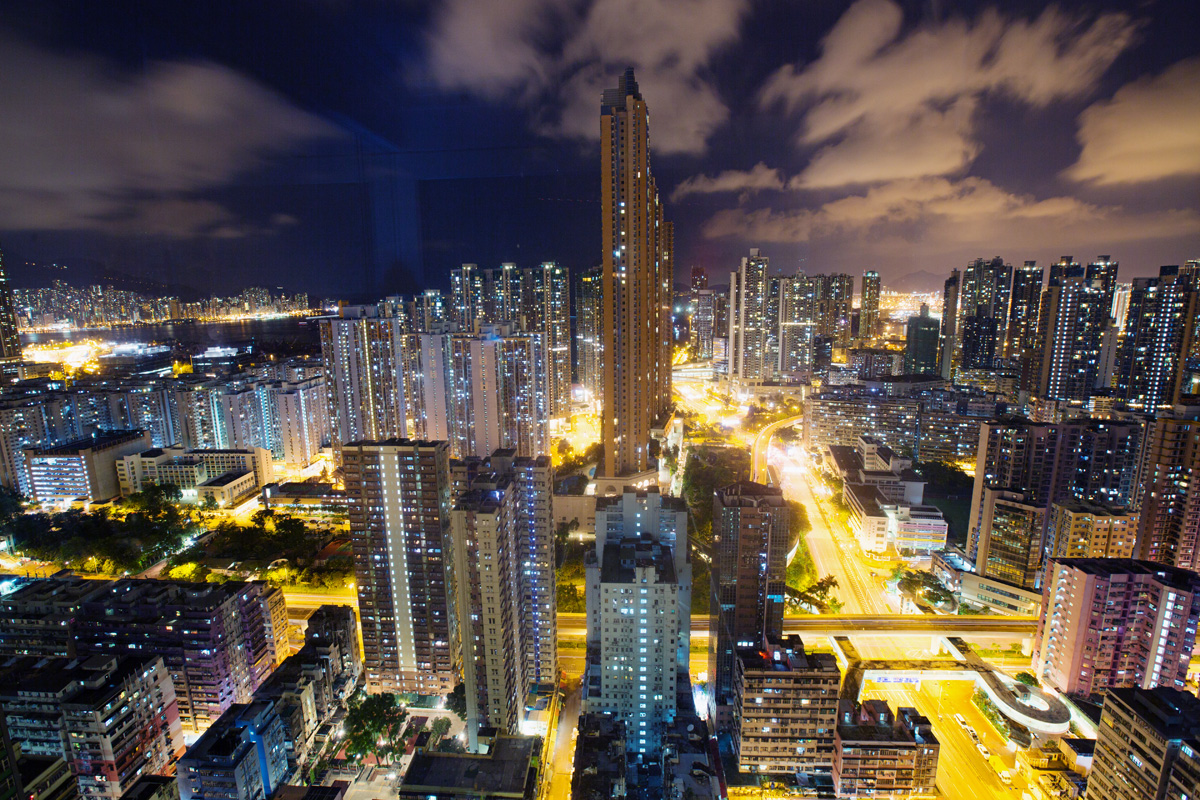 THE SYMPHONY OF LIGHTS
We continued our stroll down to the waterfront at the Tsim Sha Tsui promenade and were greeted with a fantastic view of Hong Kong Island. Luckily we had just arrived on time for the great light show "The Symphony of Lights" that illuminates every night at 8 p.m. all the iconic skyscrapers of Hong Kong's amazing skyline in a colorful galaxy of lights.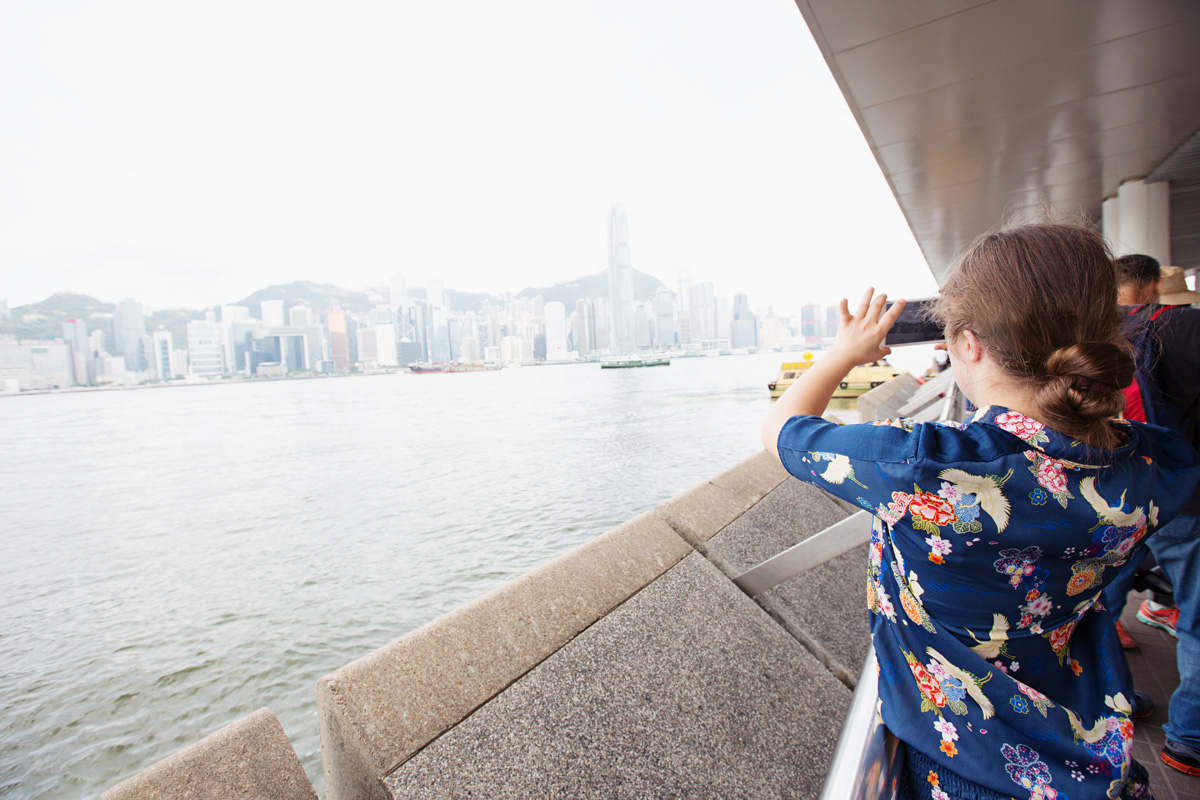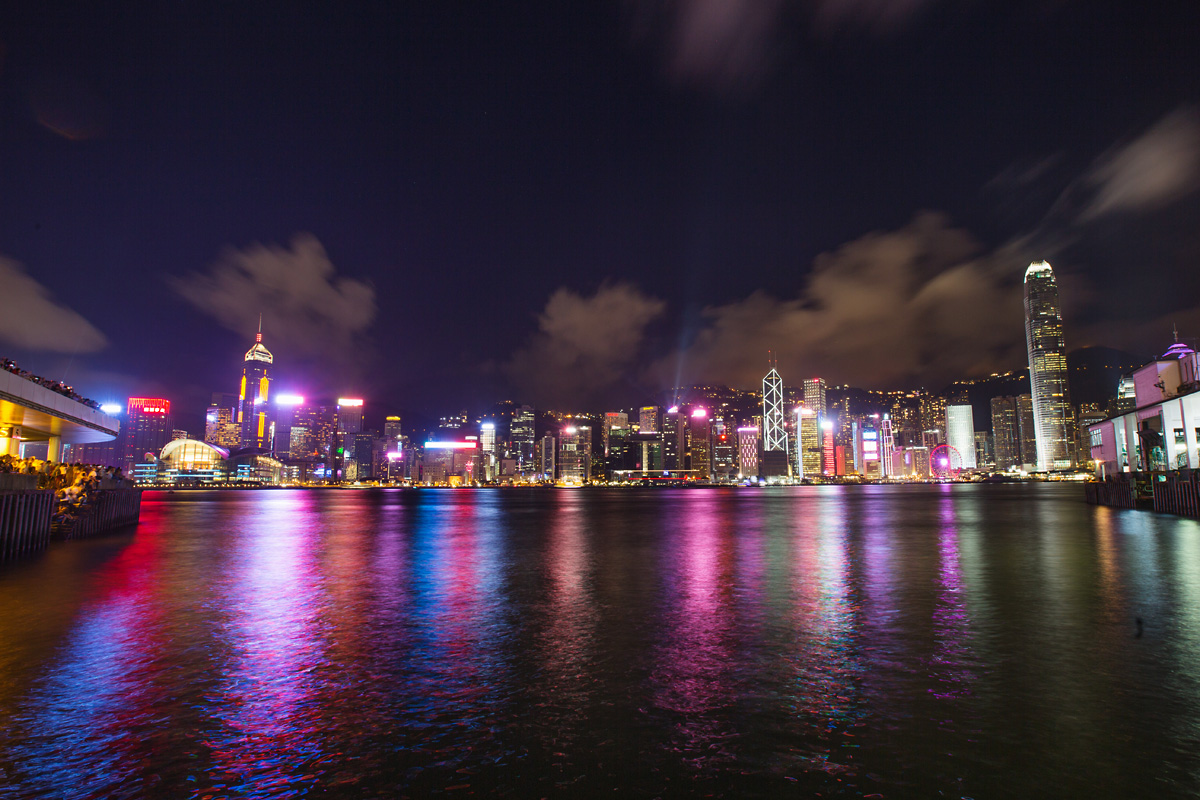 CENTRAL
Due to the time change of six hours the kids were overexcited until 2 a.m. which made it super hard to get them out of the bed the next morning. After our late breakfast, we headed down to the waterfront again to take a ride across the Victoria Harbor over to Hong Kong Island with one of the emblems of the city: the legendary Star Ferry, who has been shuttling residents between Kowloon and Hong Kong Island for over 120 years now.
Central is the place in Hong Kong for just about everything: banking, shopping, dining, partying, luxuary hotels, futuristic architecture etc. Now we were no longer looking at the stunning skyline, but into the skyline. Walking between the skyscrapers towering over our heads was pretty astounding. We got several times lost in the huge shopping mall, rode the longest outdoor covered excalator system in the world – the Central-Mid-Levels escalators – which was tons of fun, and stopped for some amazing handcrafted icecream roses at Barista by Givrés in the midst of beautiful Soho.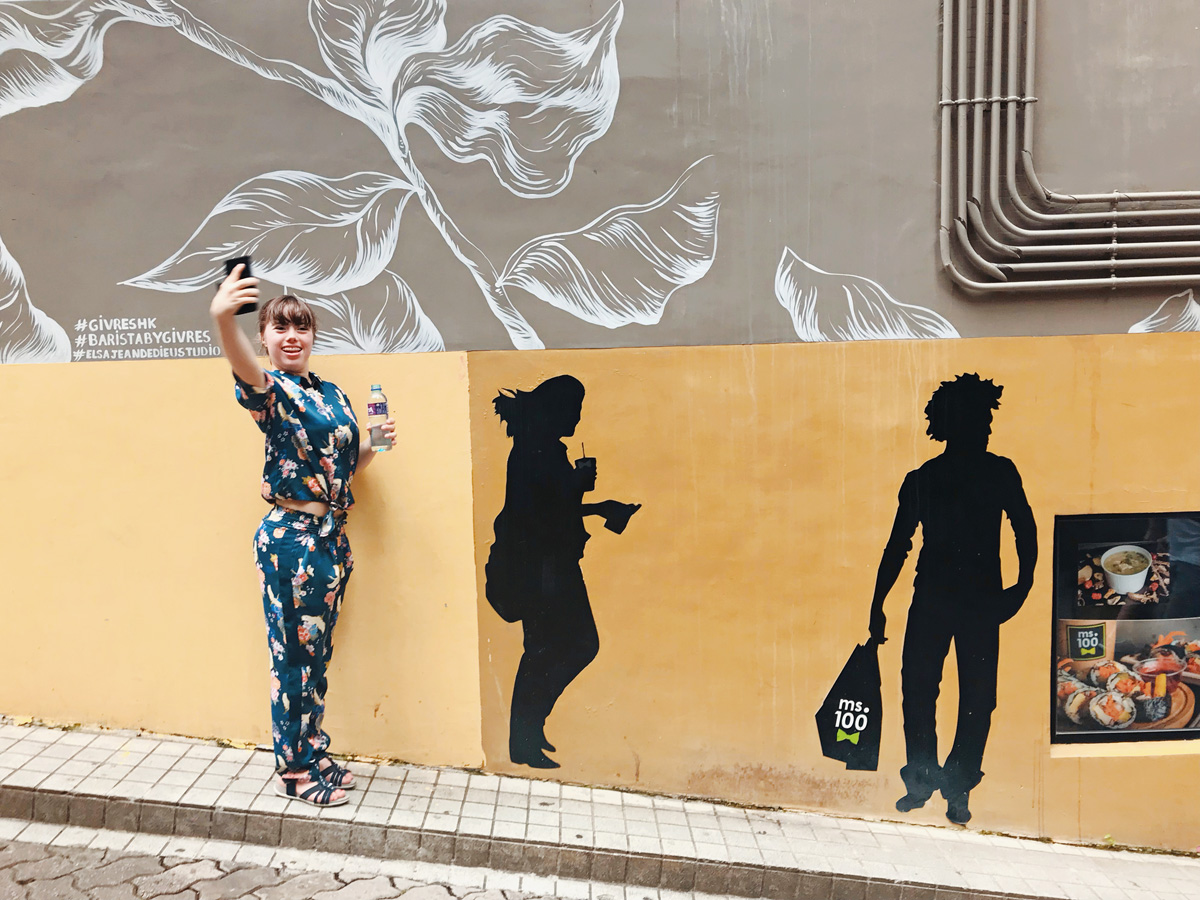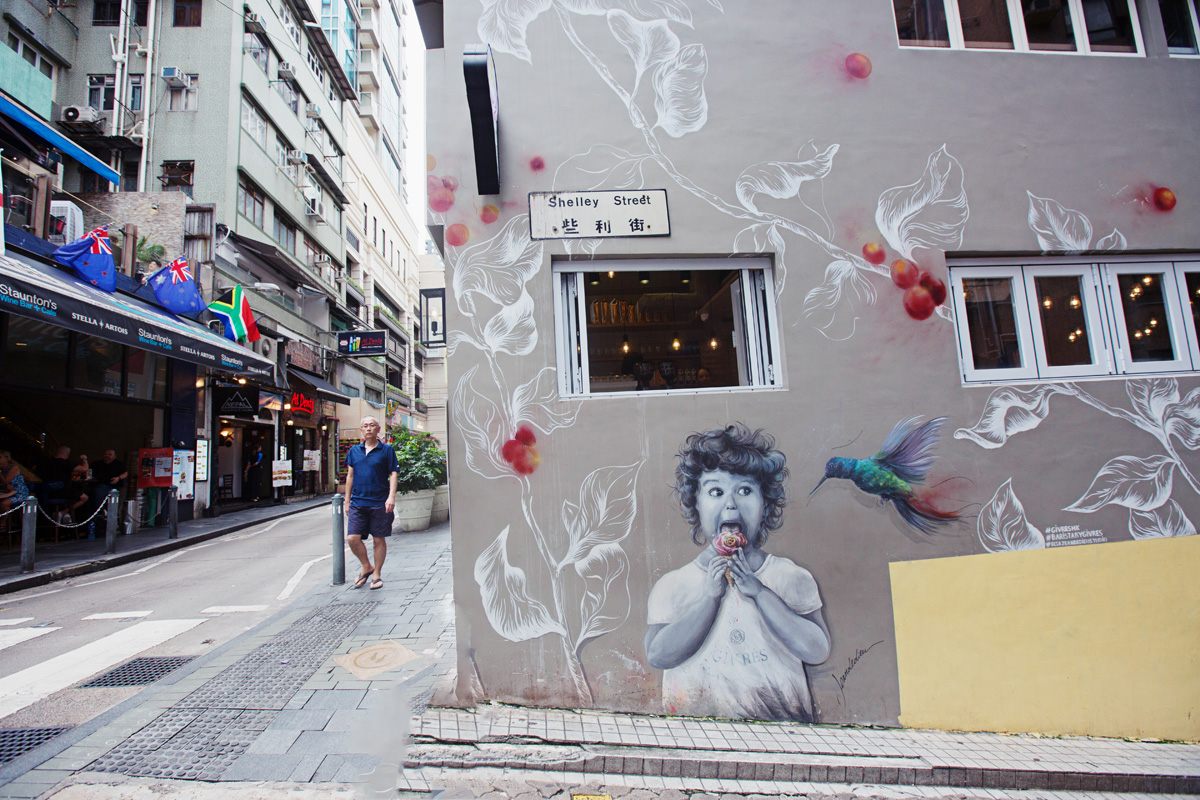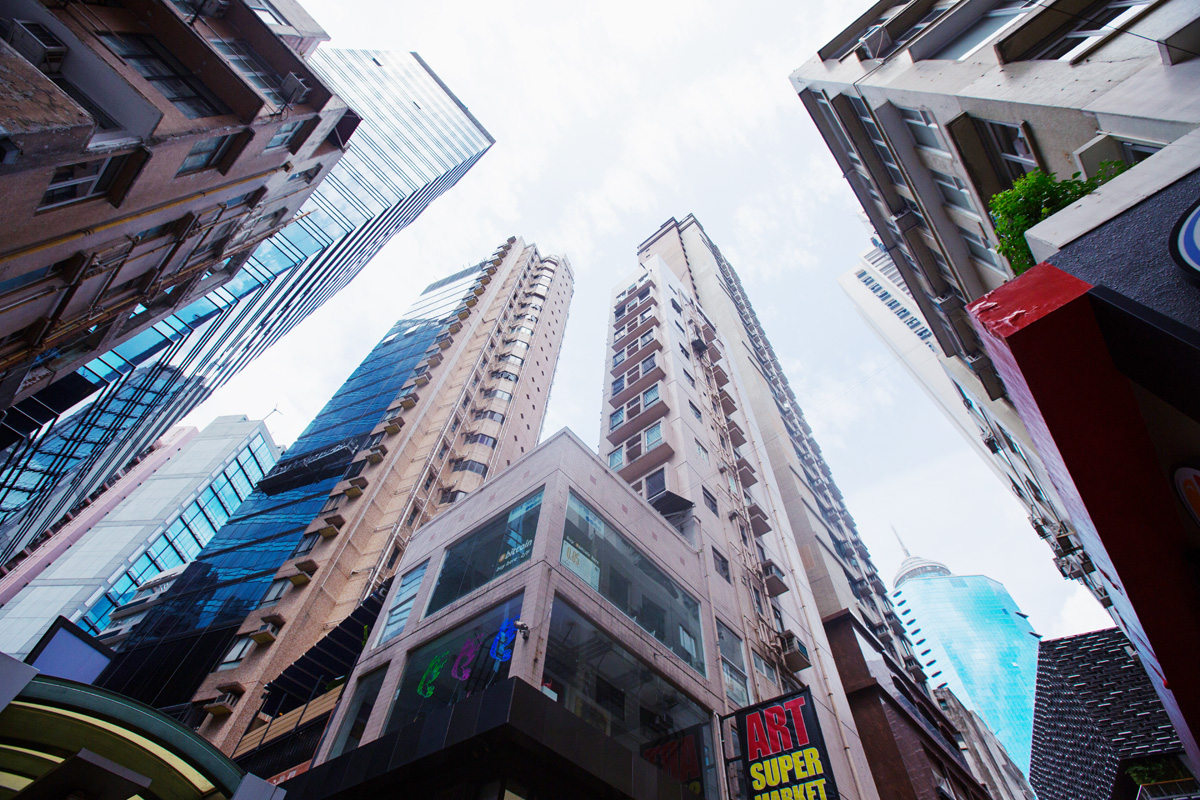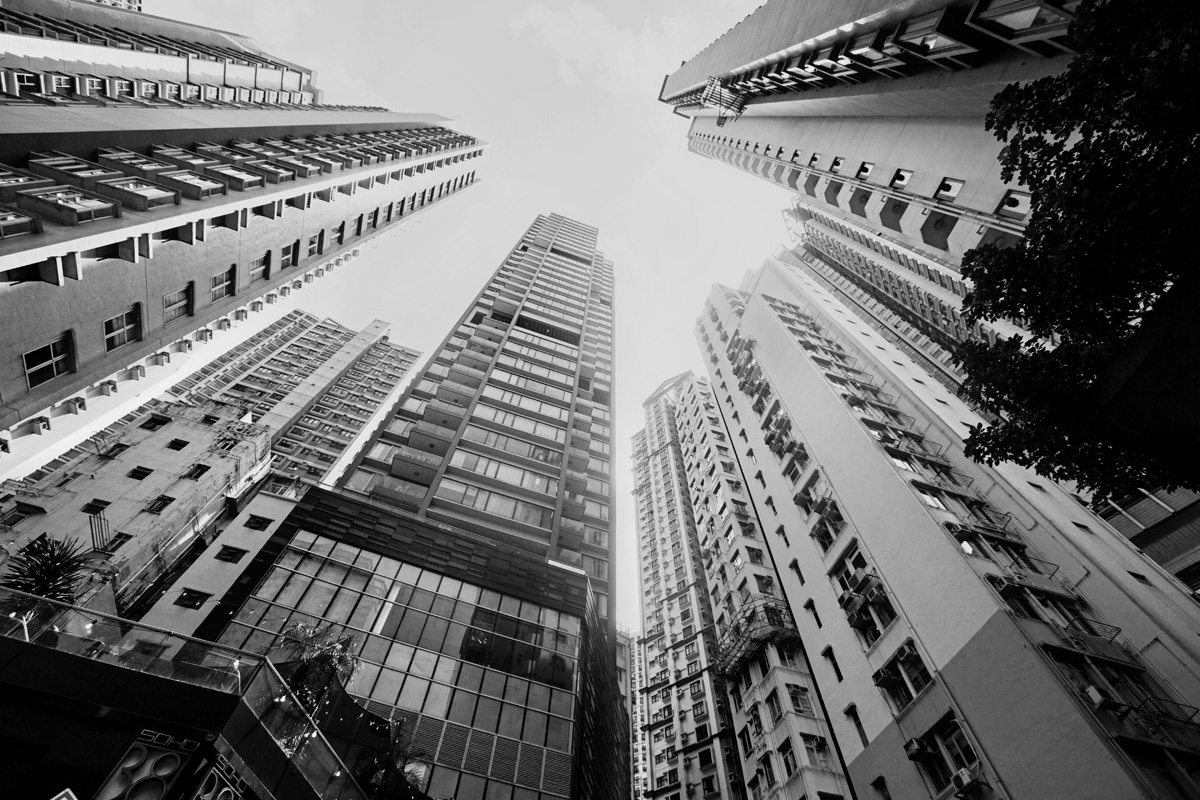 MAN MO TEMPLE
When we went to the Man Mo Temple which was built in 1847 and consists of three rooms dedicated to the gods and one to resolve civil disputes, we didn't stay very long, because Juliana almost felt sick and her eyes hurt because of the heavily perfumed coils of incense burning there.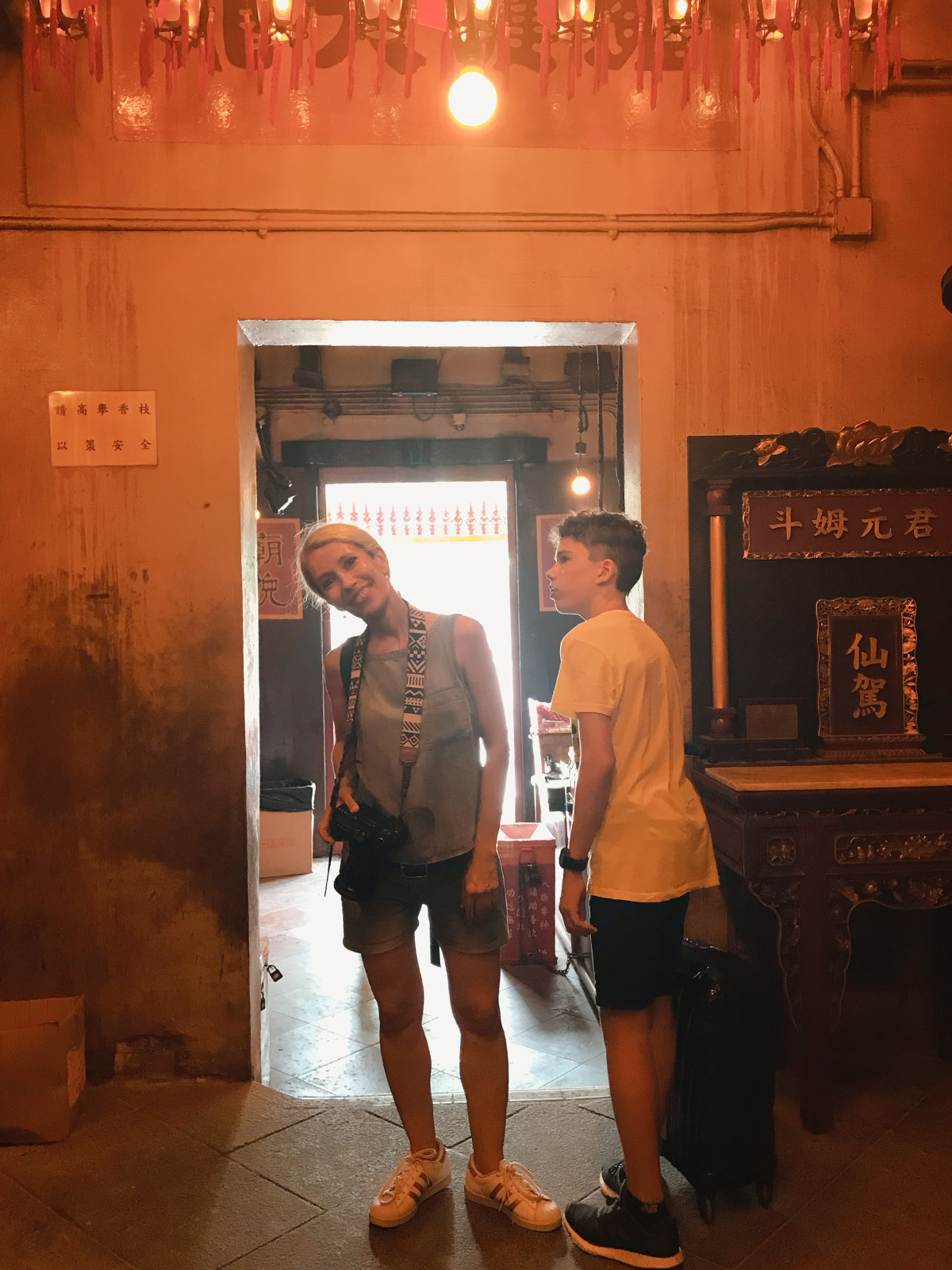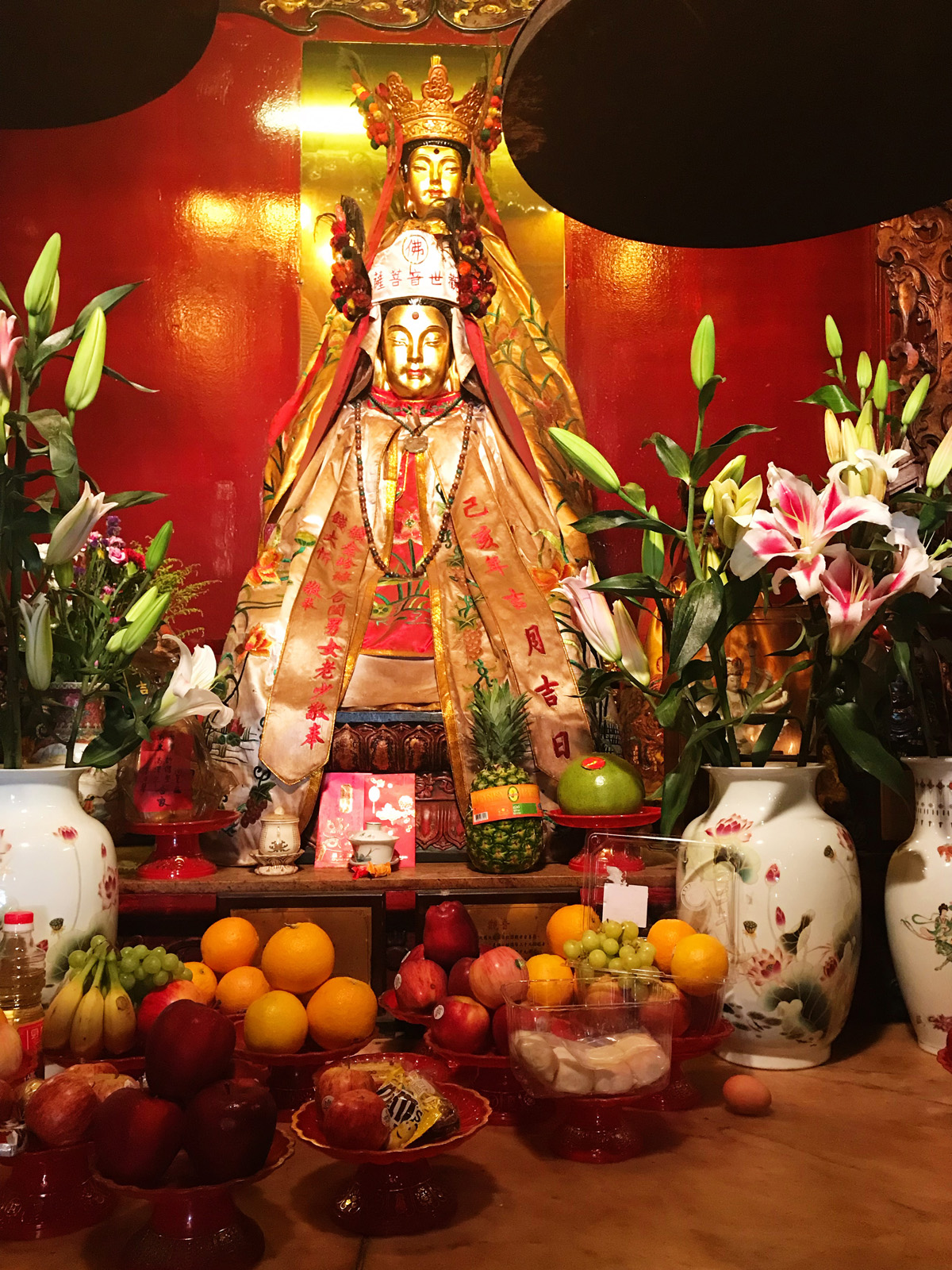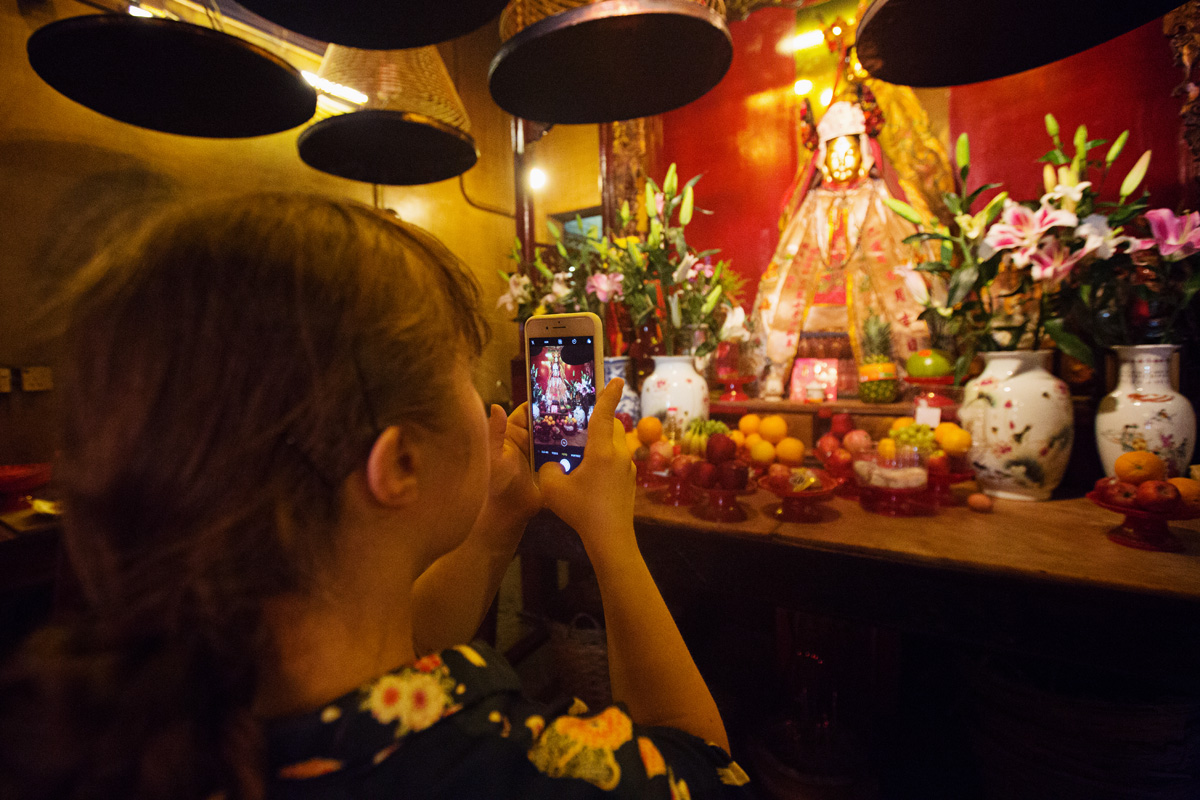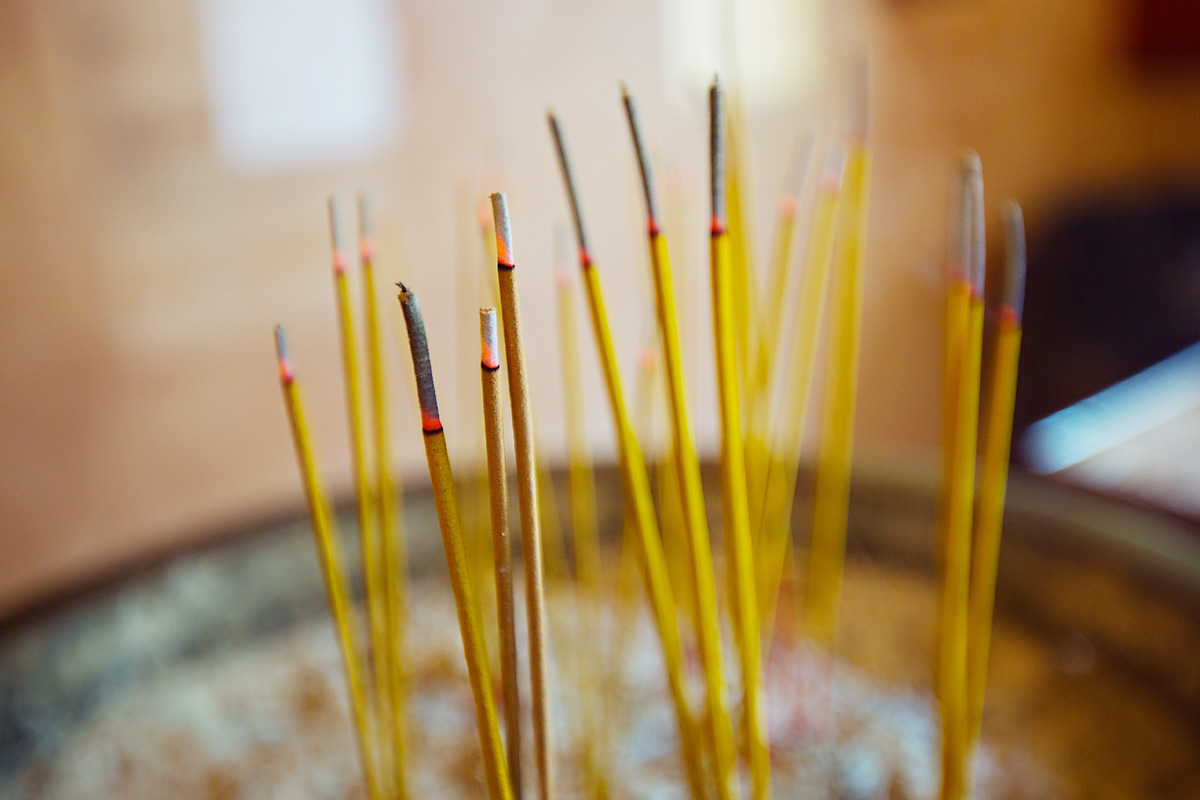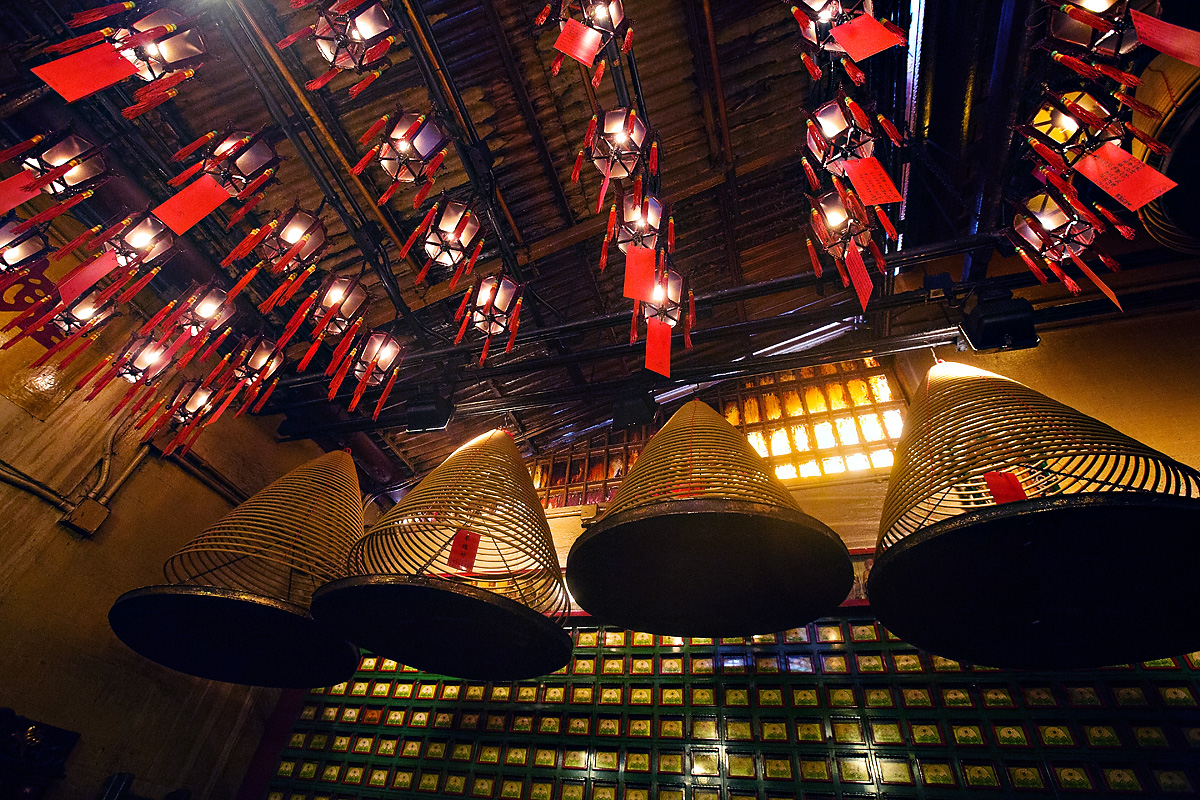 VICTORIA PEAK
Since we had started into our day so late, we were almost the last visitors at 11 p.m. up there at Victoria Peak to enjoy my probably most favorite skyline in the world. When you are up there enjoying the breathtaking view you really get a feeling of just how big this city really is.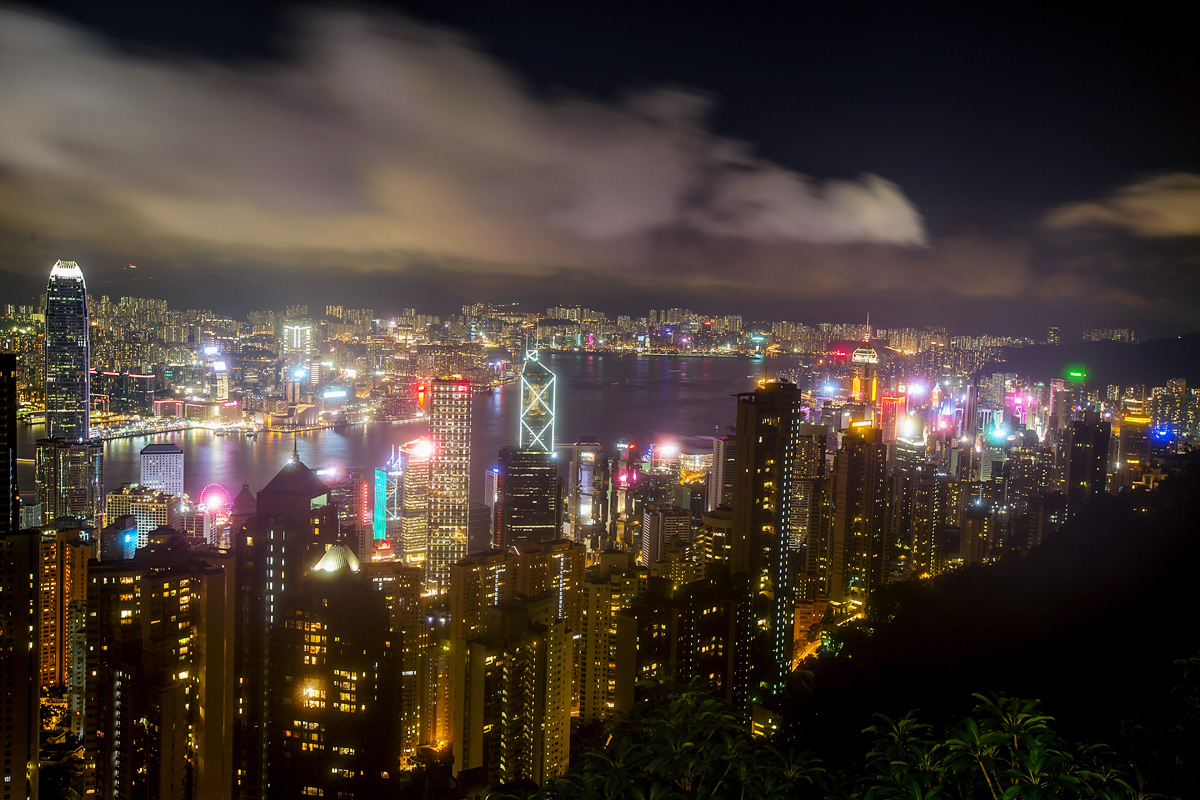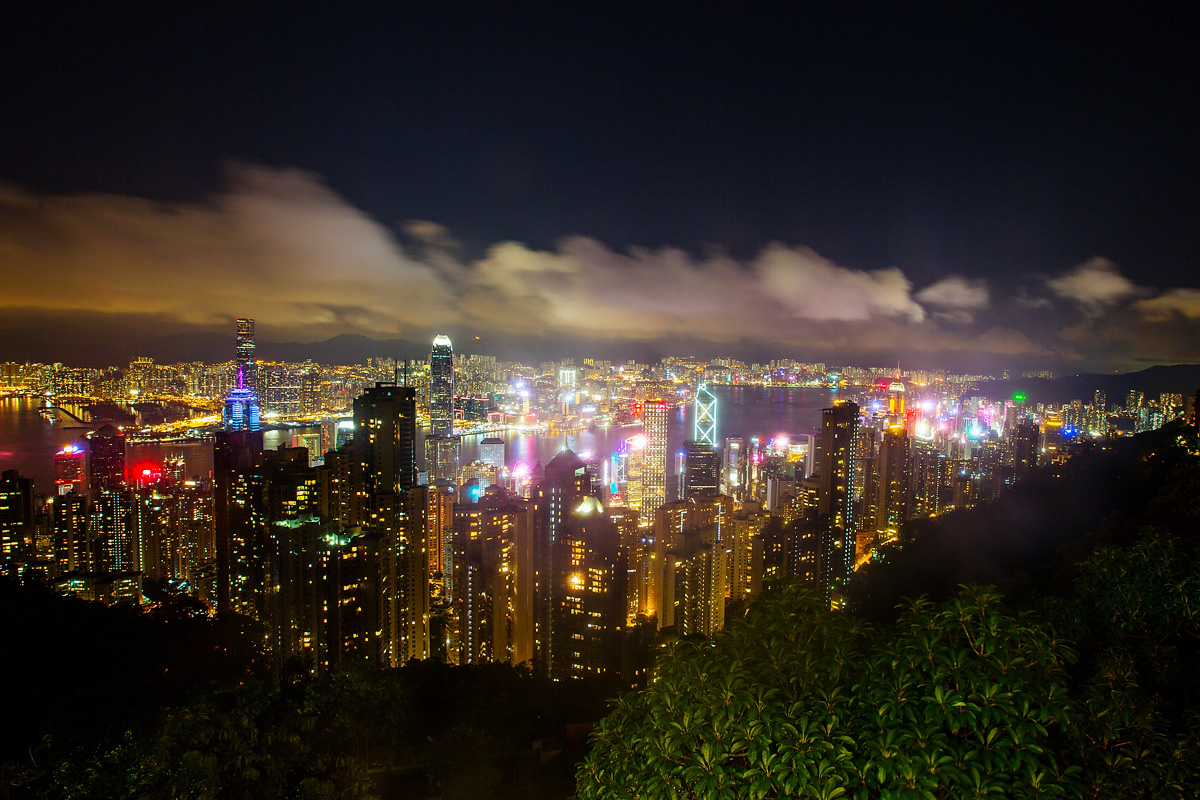 YICK FAT BUILDING
Hong Kong is incredibly dense with over 7 million people and well-known for its tall and crowded apartment buildings. Some of them are painted in wild color schemes. The Yick Fat Building attracts thousands of tourists every day, especially since it got featured in the Transformer movie "Age of Extinction". These monster buildings have become an internet sensation and sought-after backdrop for models, influencers and the like. When we stopped by, we were suddenly surprised by a heavy downpour, so we were forced to take a break and get some delicious coffee. Sitting under some shelter and listening to the pouring rain, I couldn't stop looking up towards the overwhelmig height of the buildings almost touching the sky and wondering how people can actually live in such small places, squeezed into tiny spaces. But like everything in life, it is just a matter of perspective, and it doesn't need much to be happy.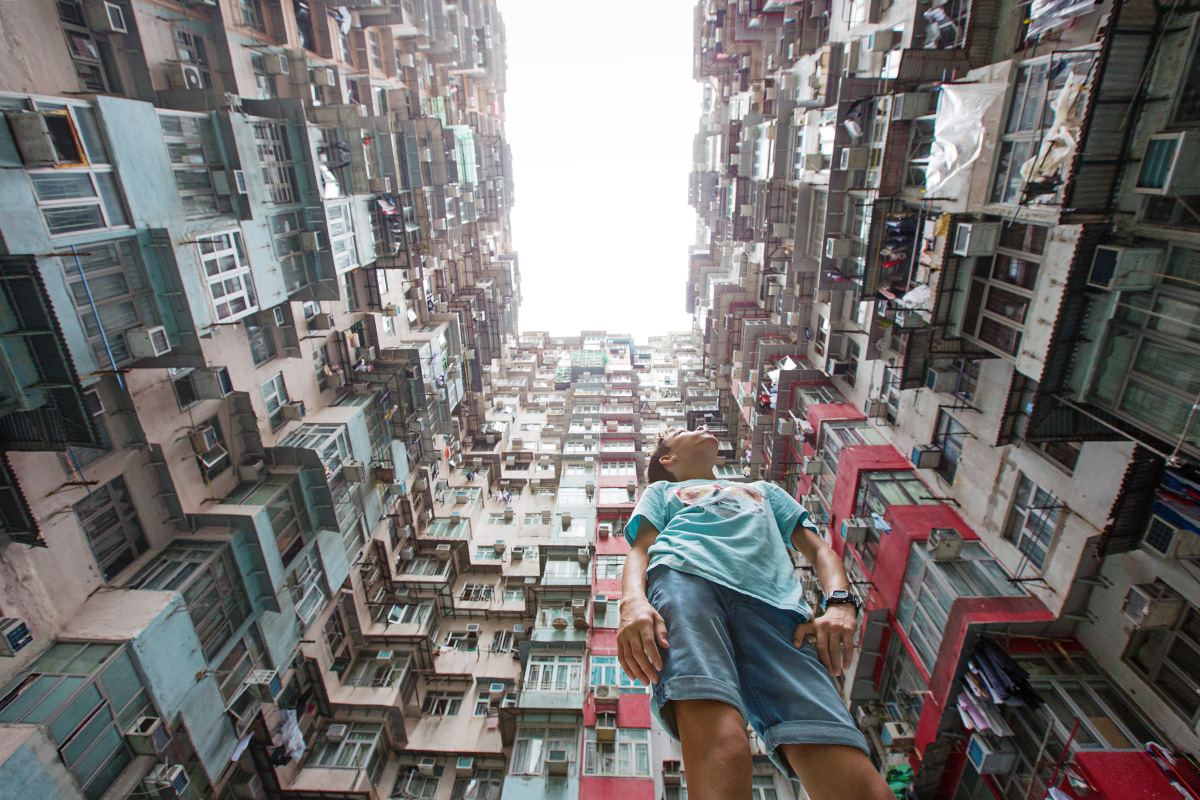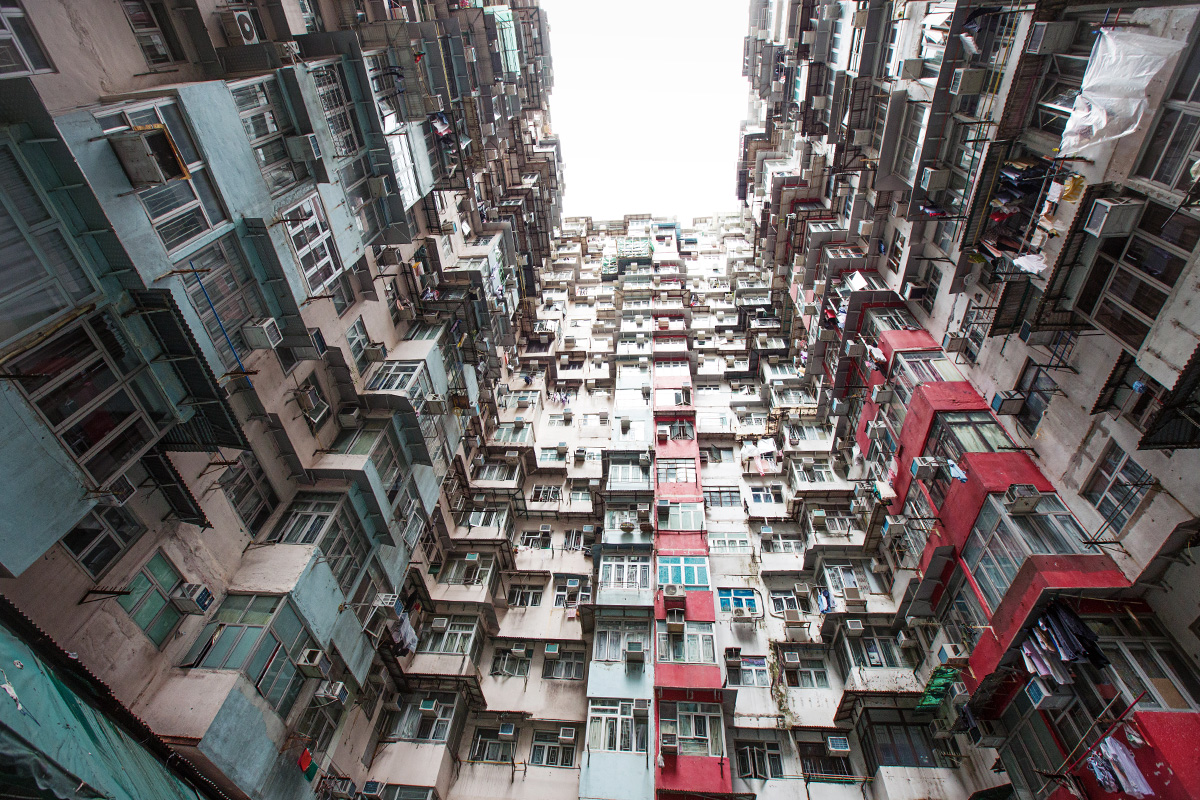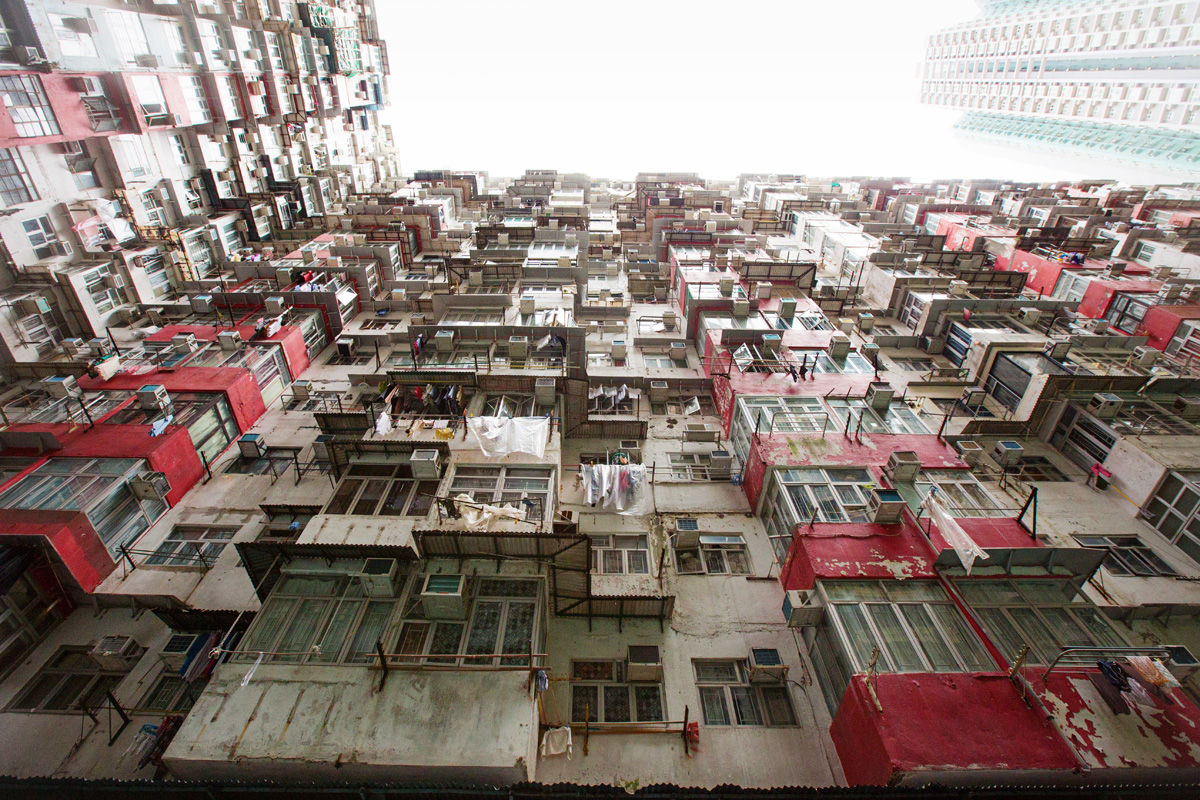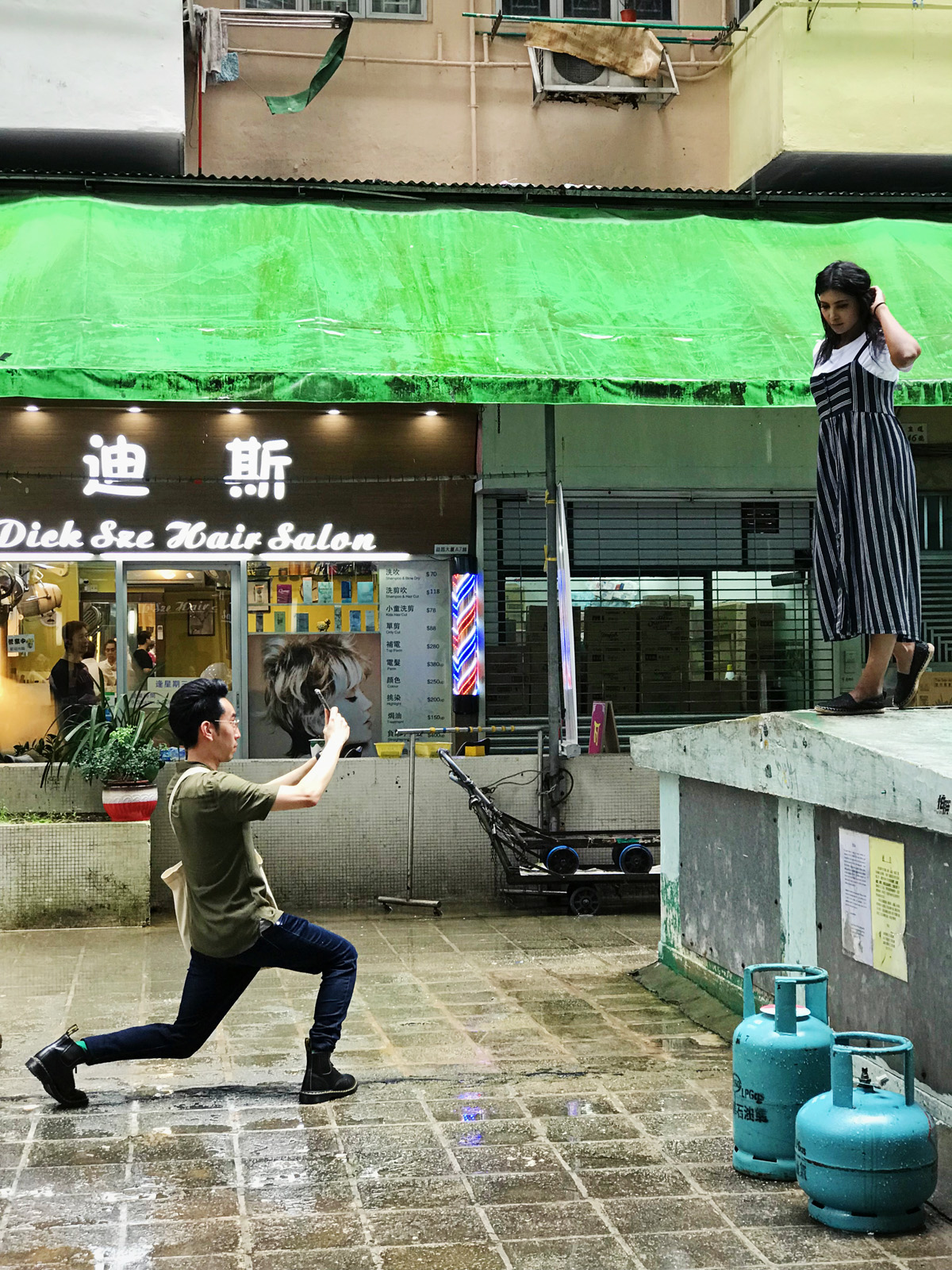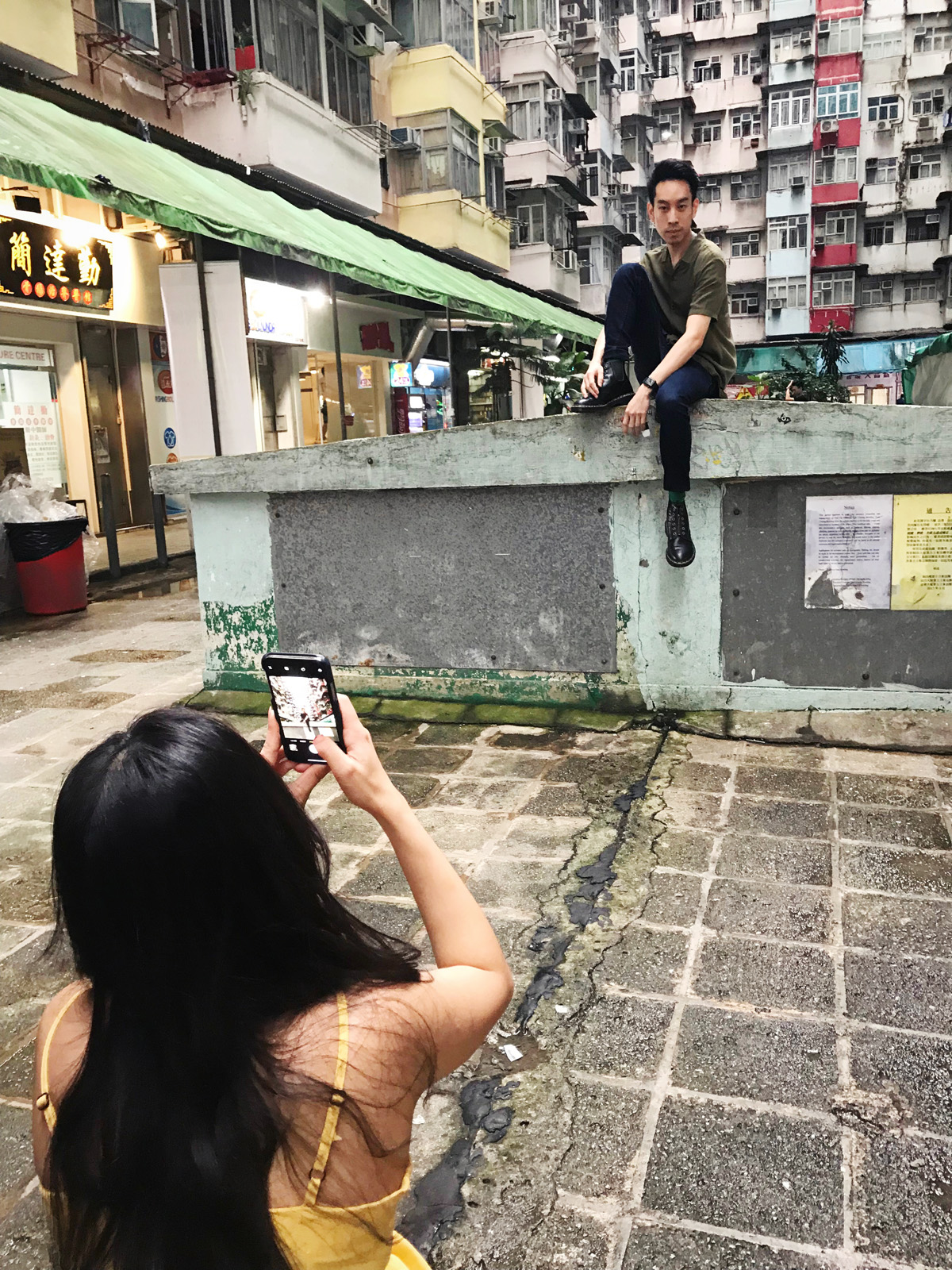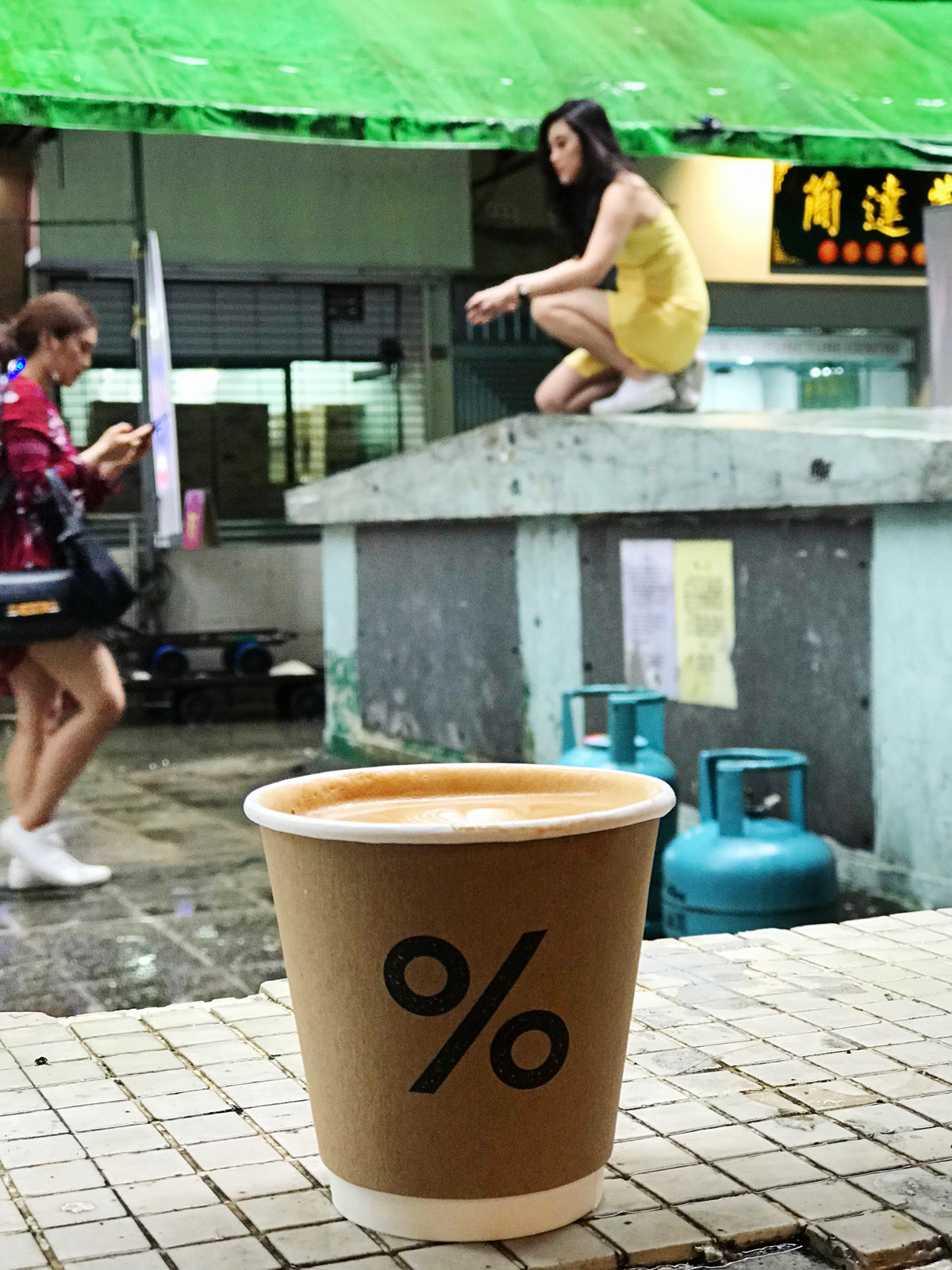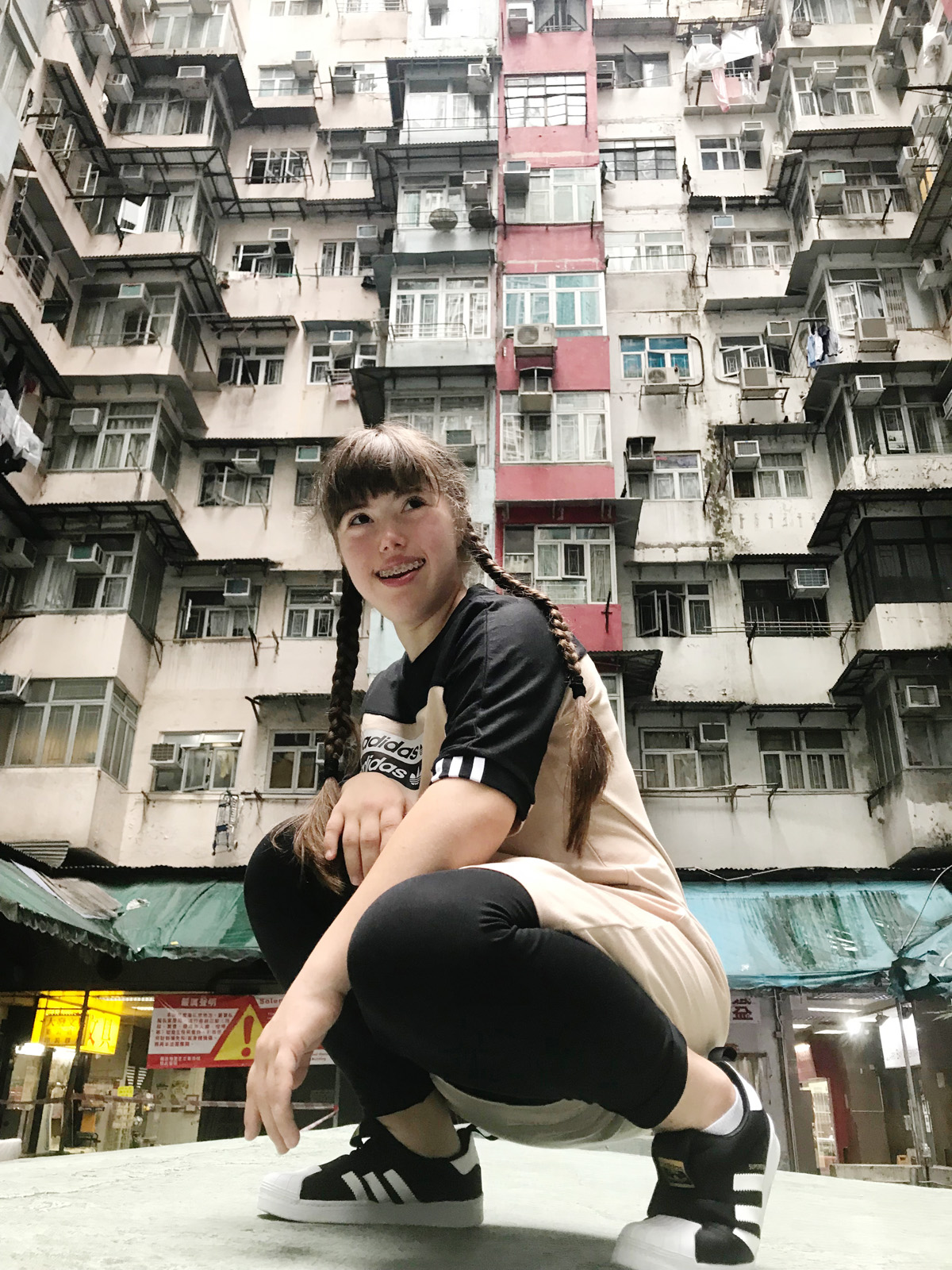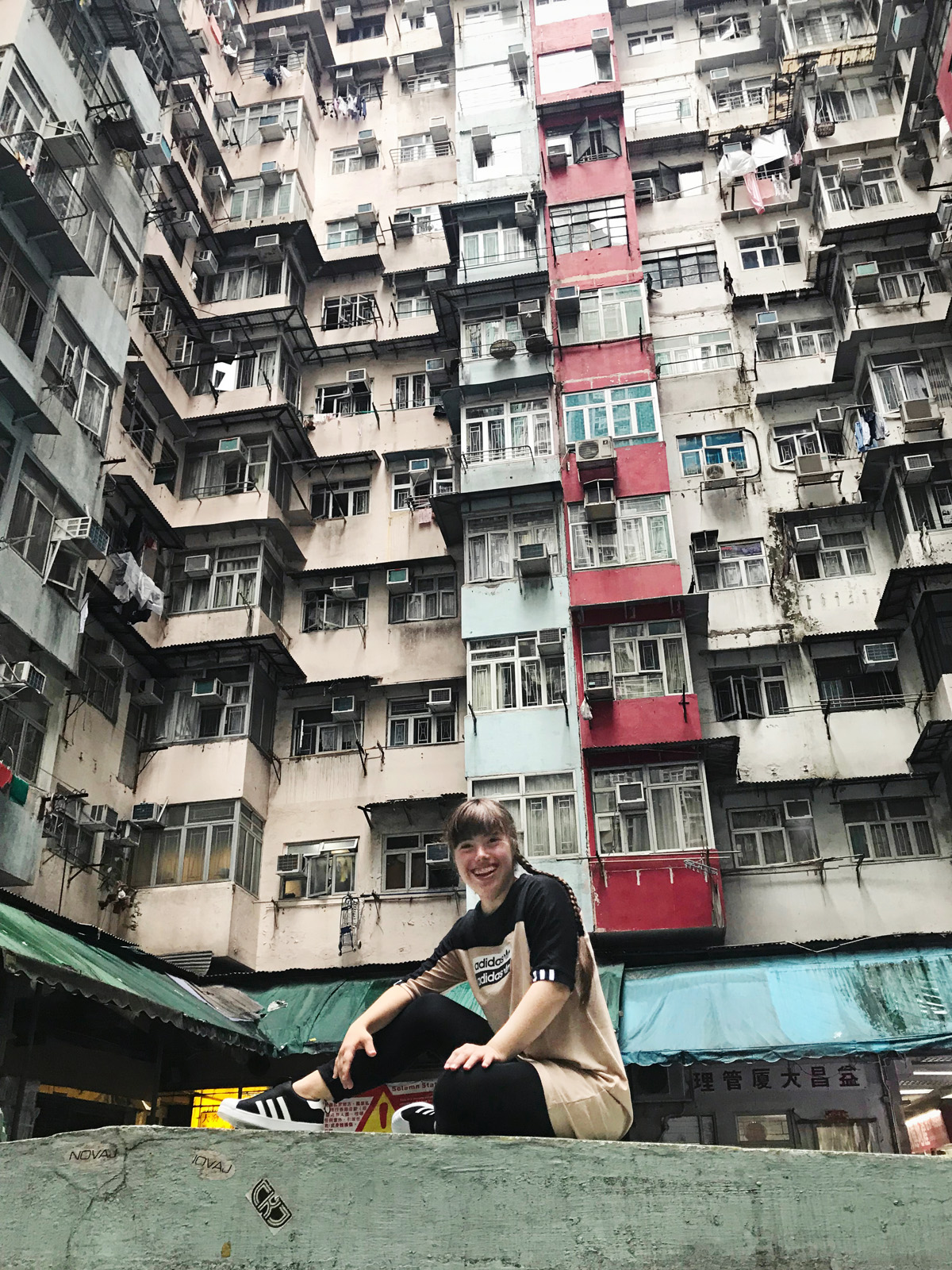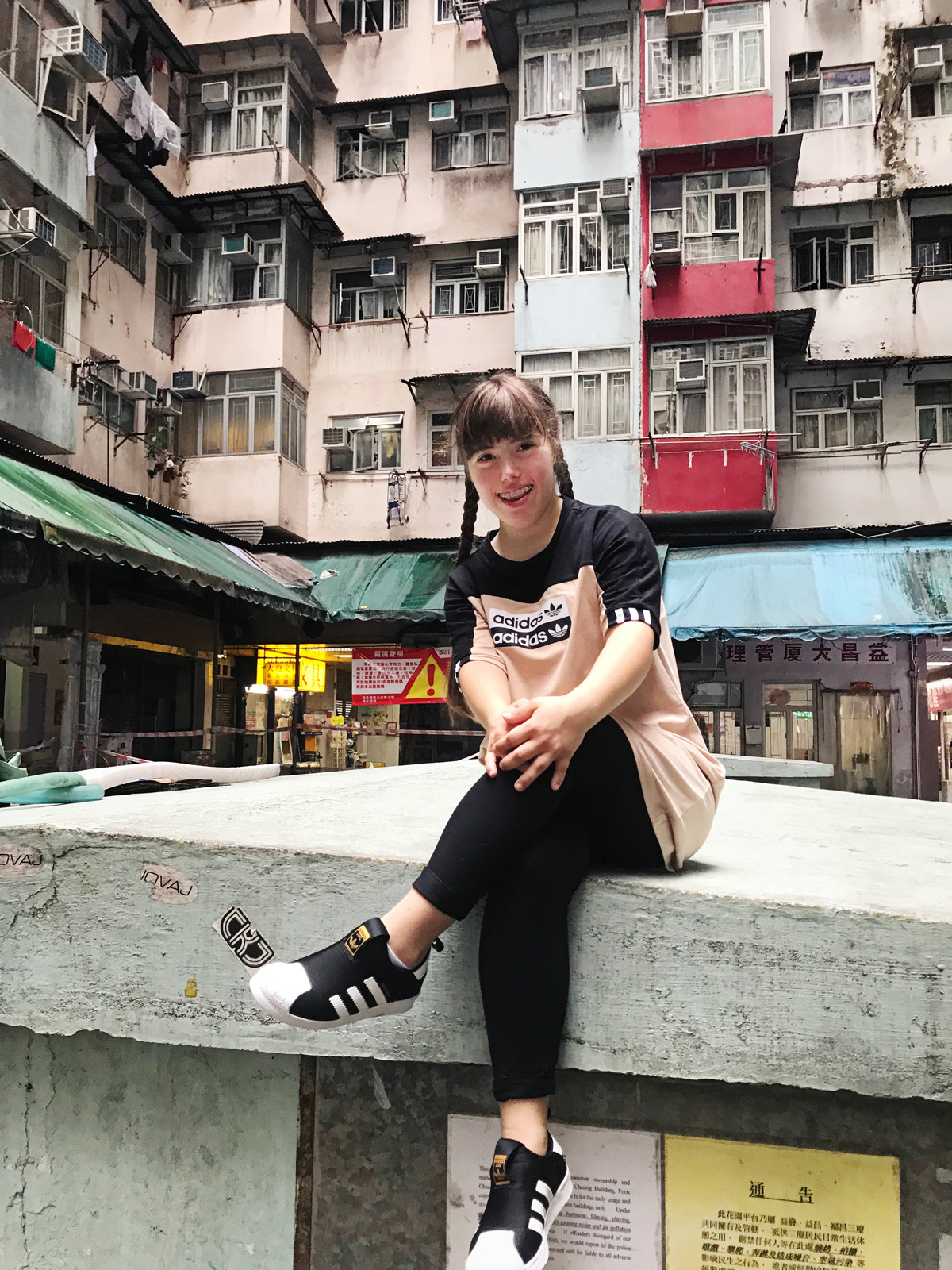 TIAN TAN BUDDHA AND PO LIN MONASTERY
We escaped way too late the bustling city of Hong Kong for our day trip to the Great Buddha and arrived in the early afternoon. Lantau Island is full of treasures and has the largest outdoor bronze statue of Buddha sitting peacefully in the midst of beautiful mountains. We took the cable car with a glass floor flying over the foothills and mountains of Lantau Island to the amazing 34 meters tall Tian Tan Buddha. Down at the Buddha is the majestic Po Lin Monastery and it was pretty magical to see some monks inside the monastery praying.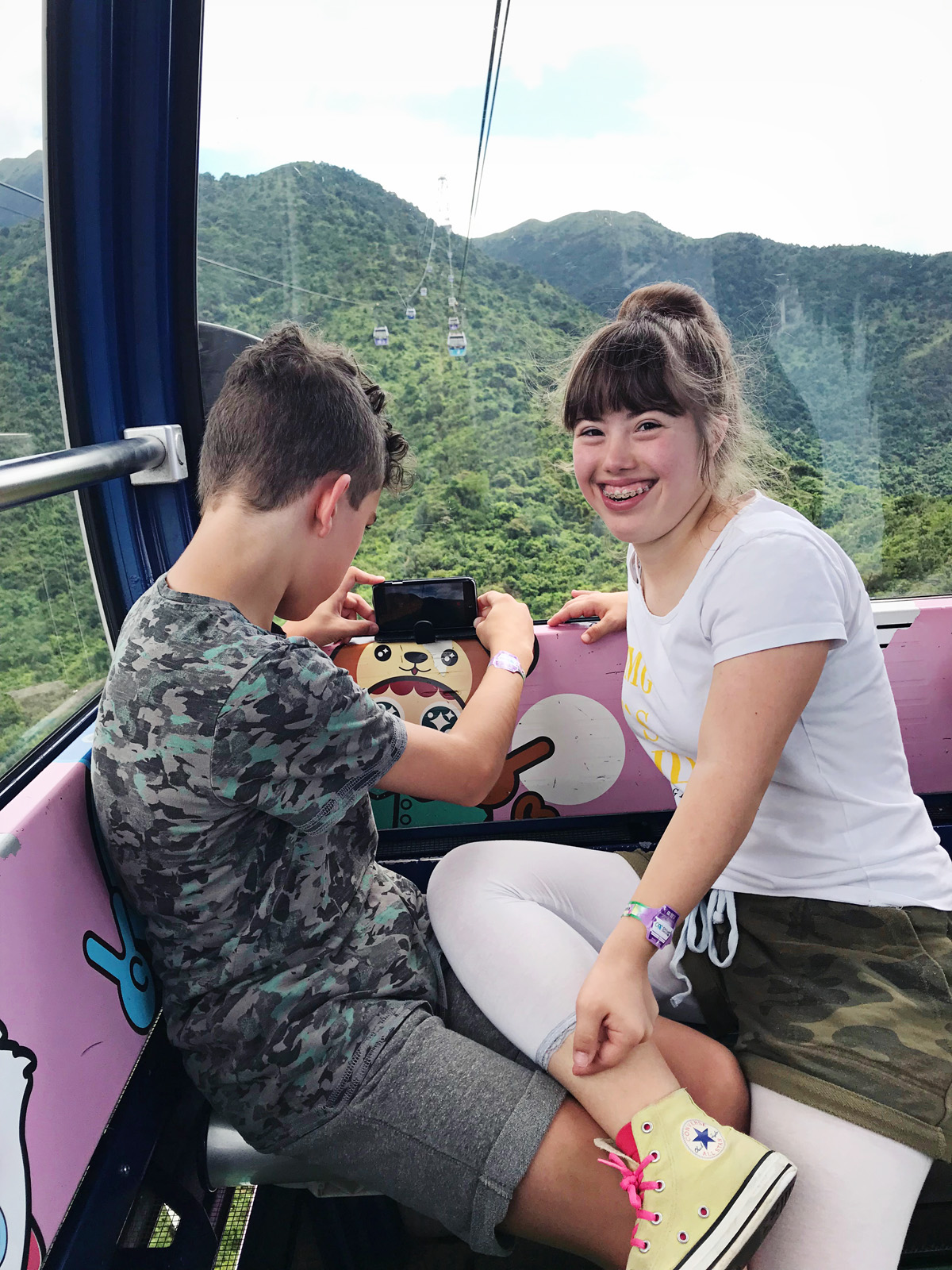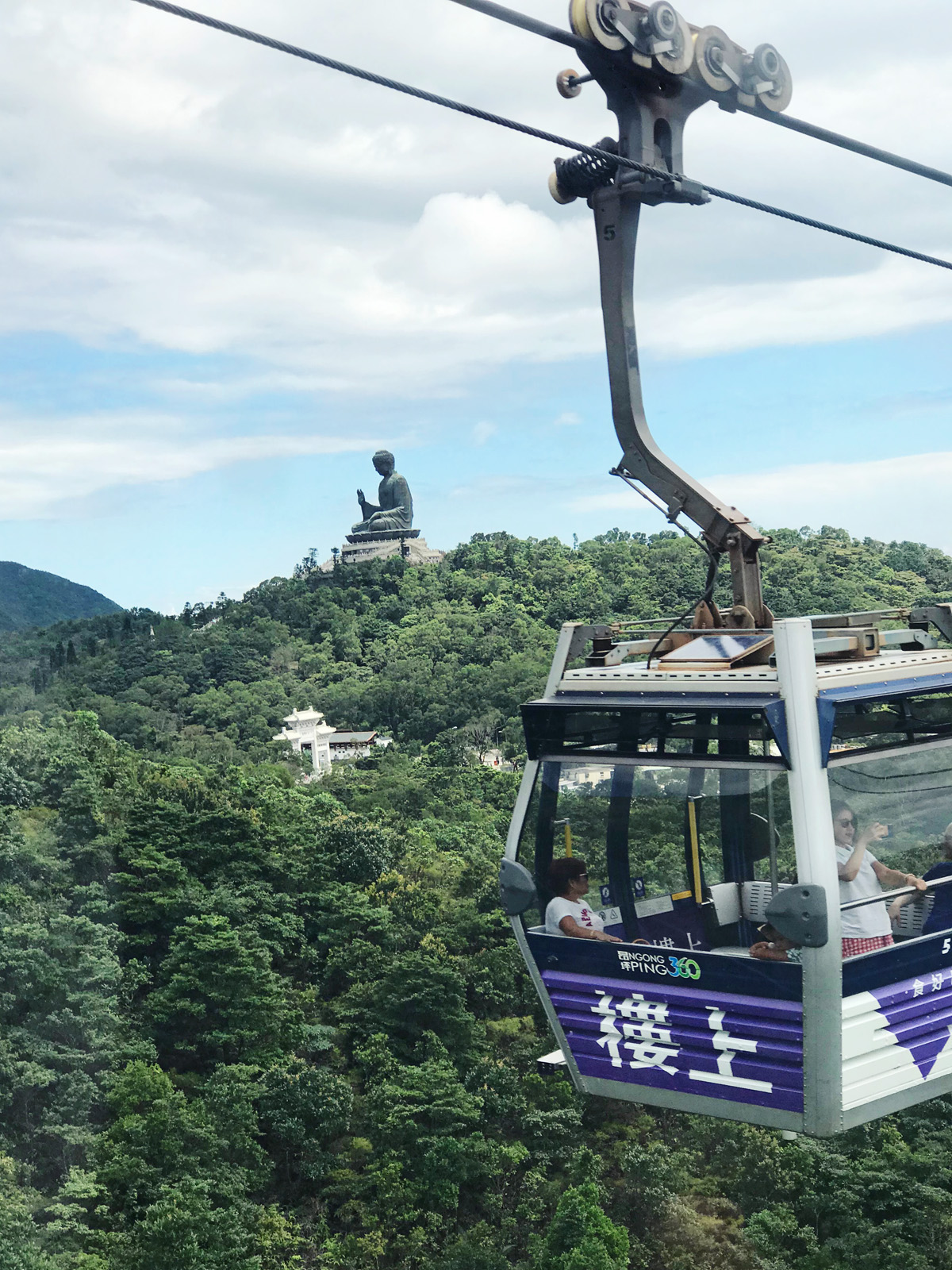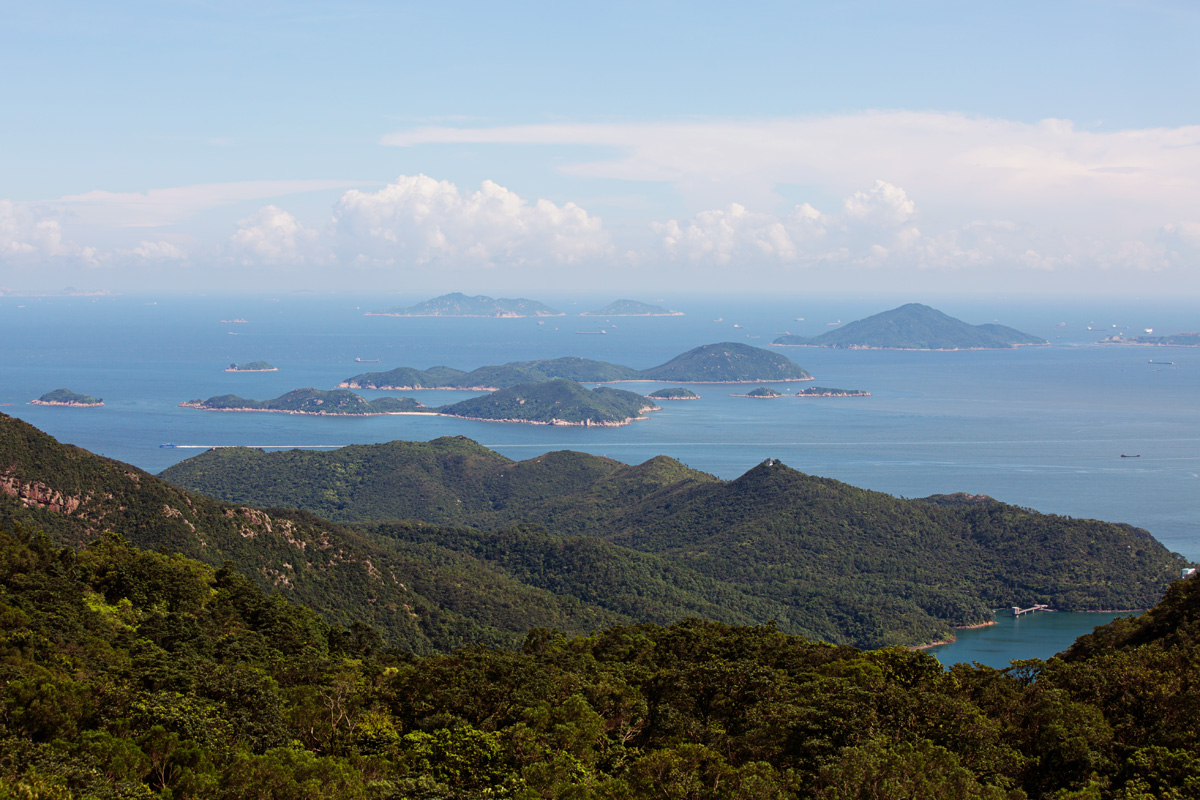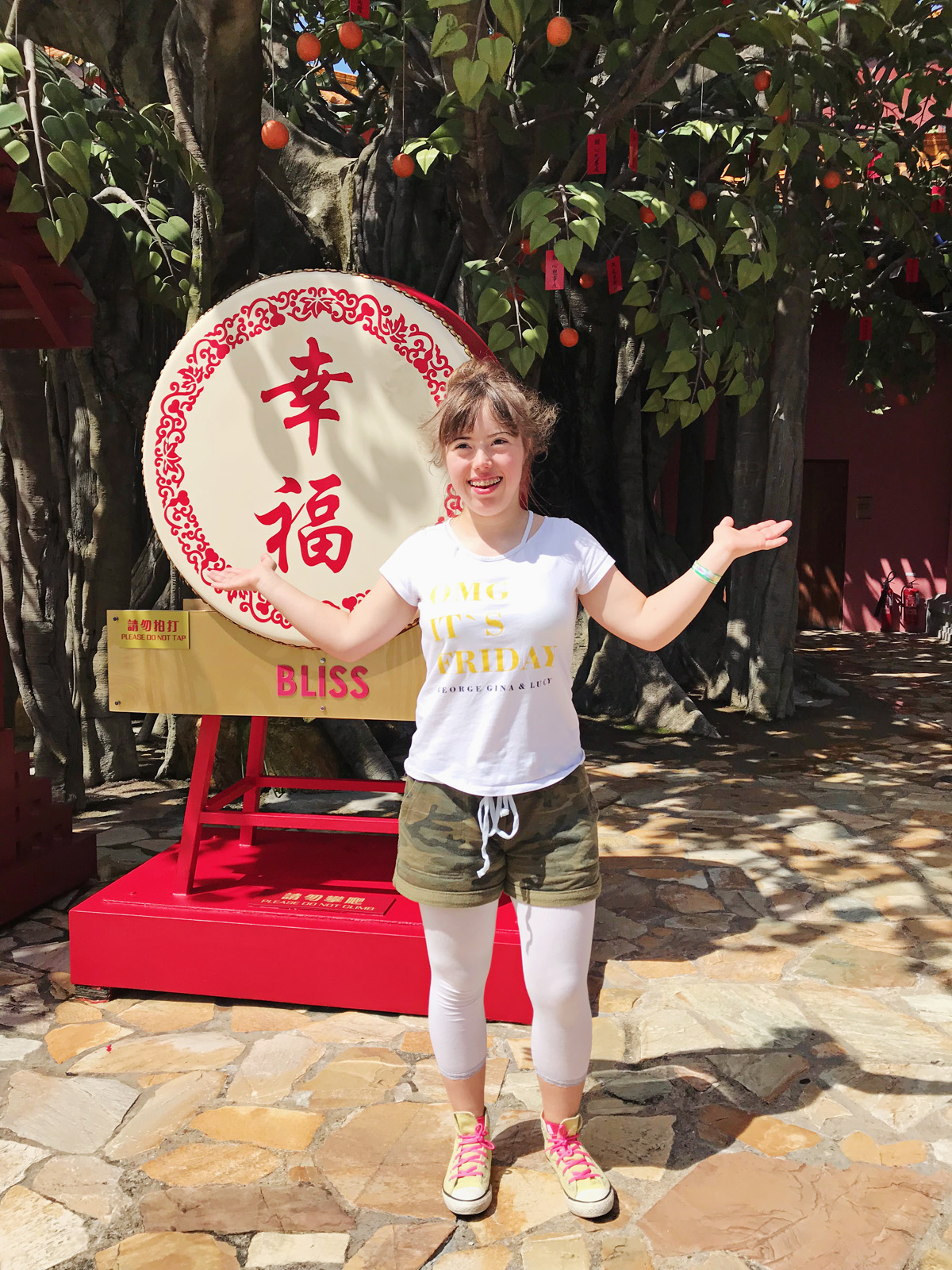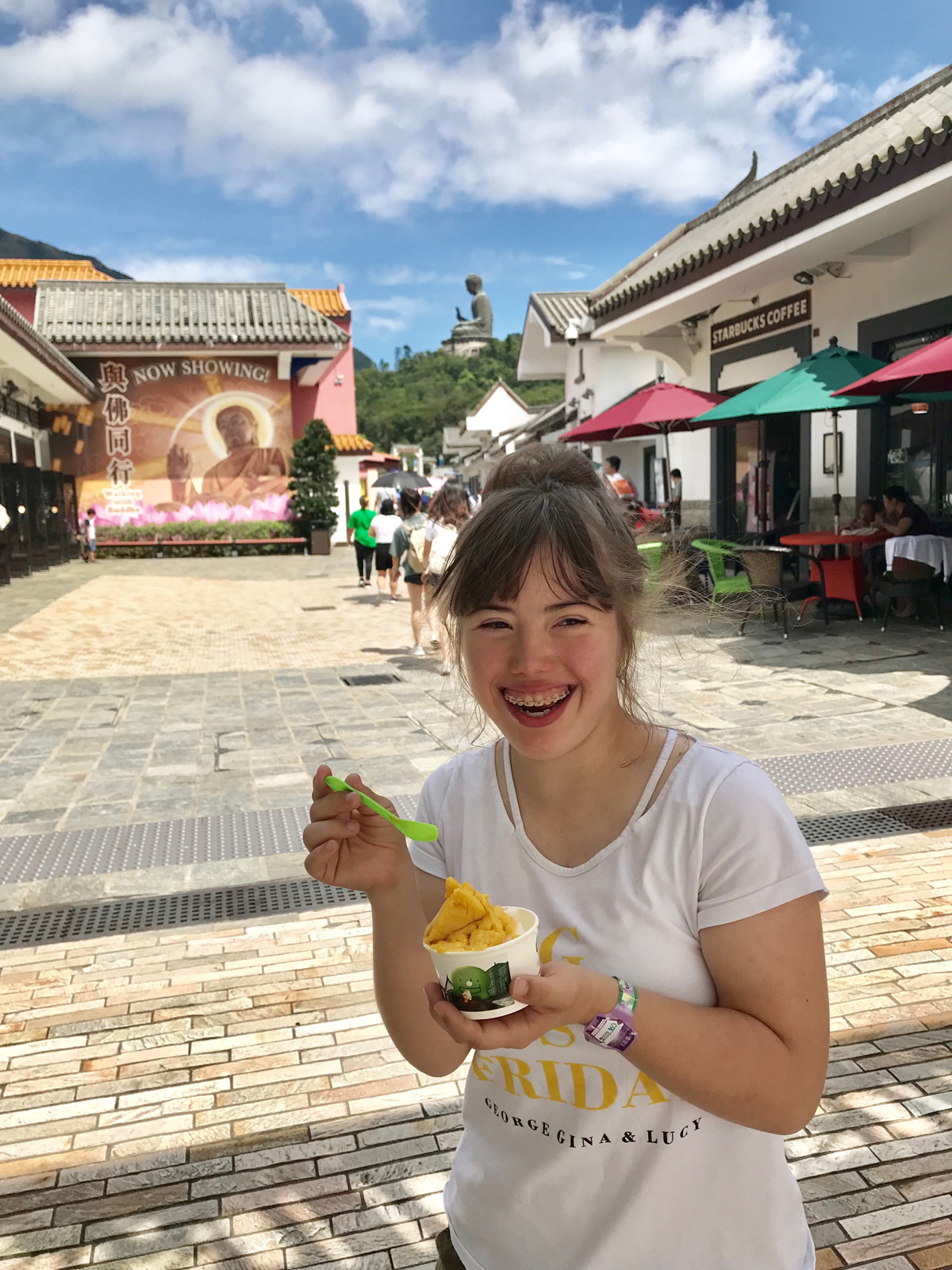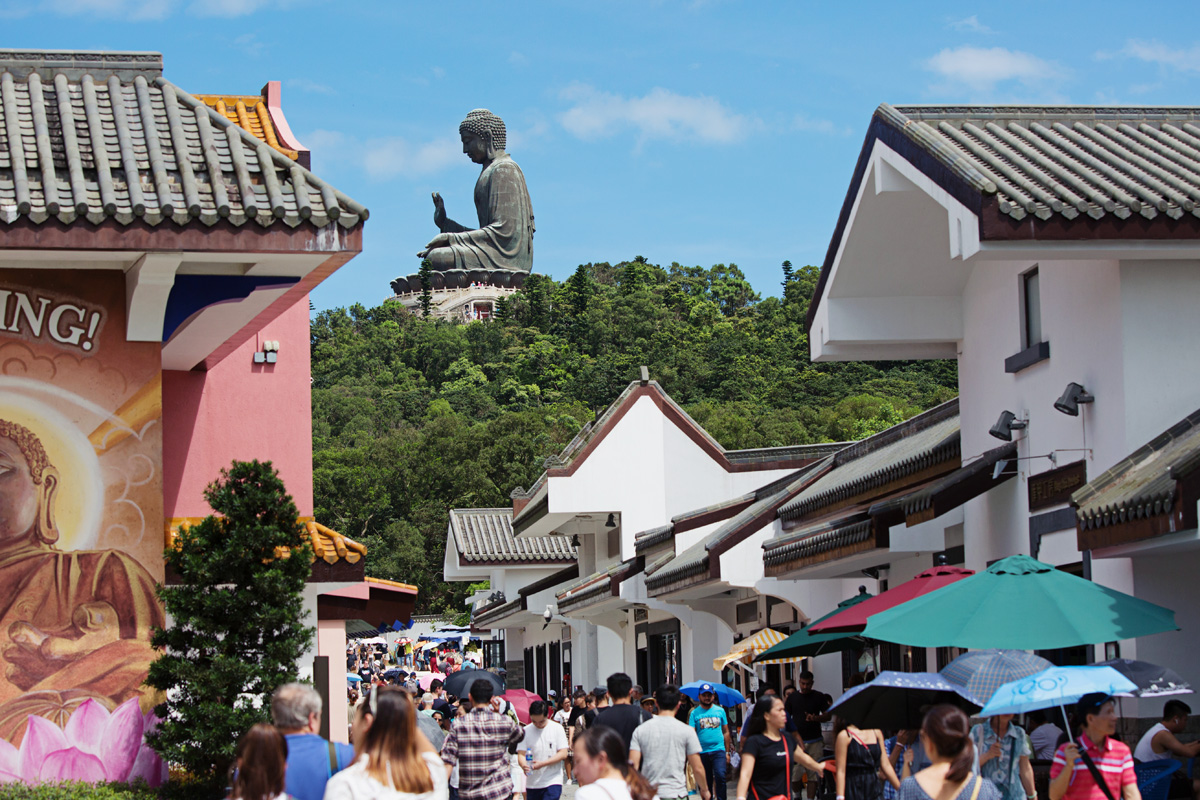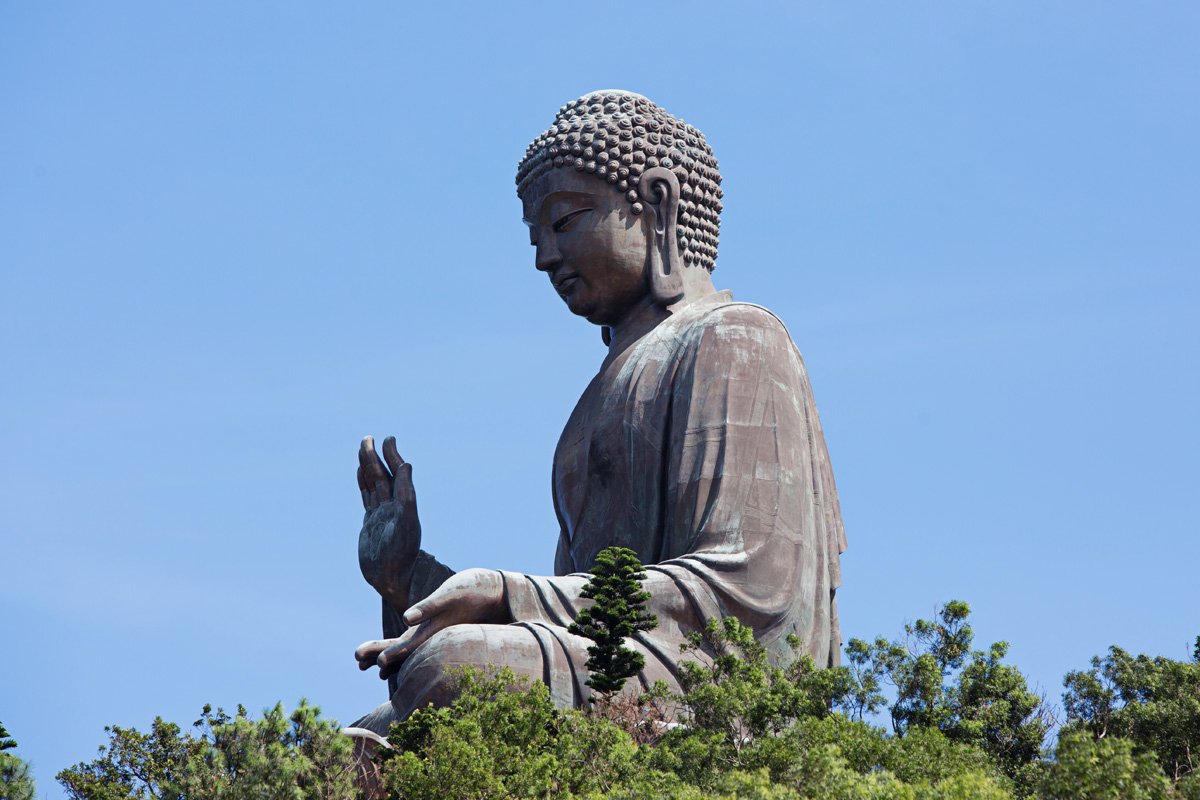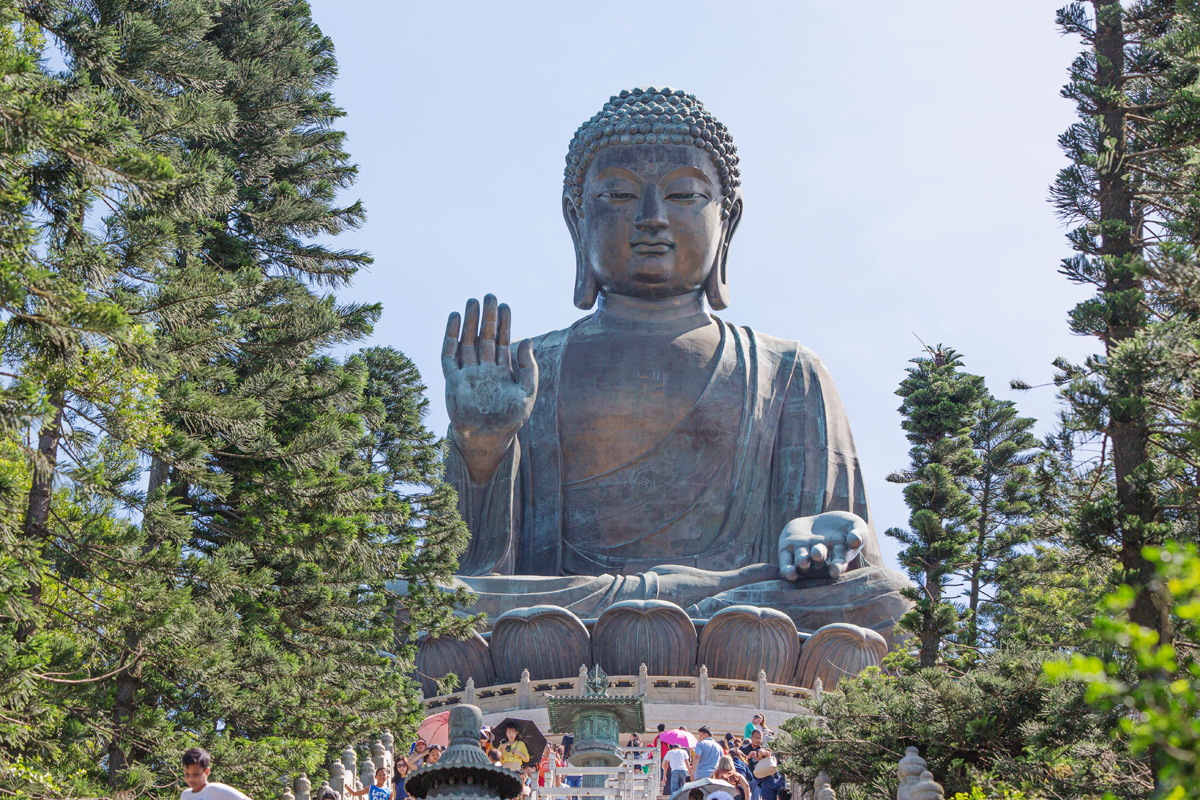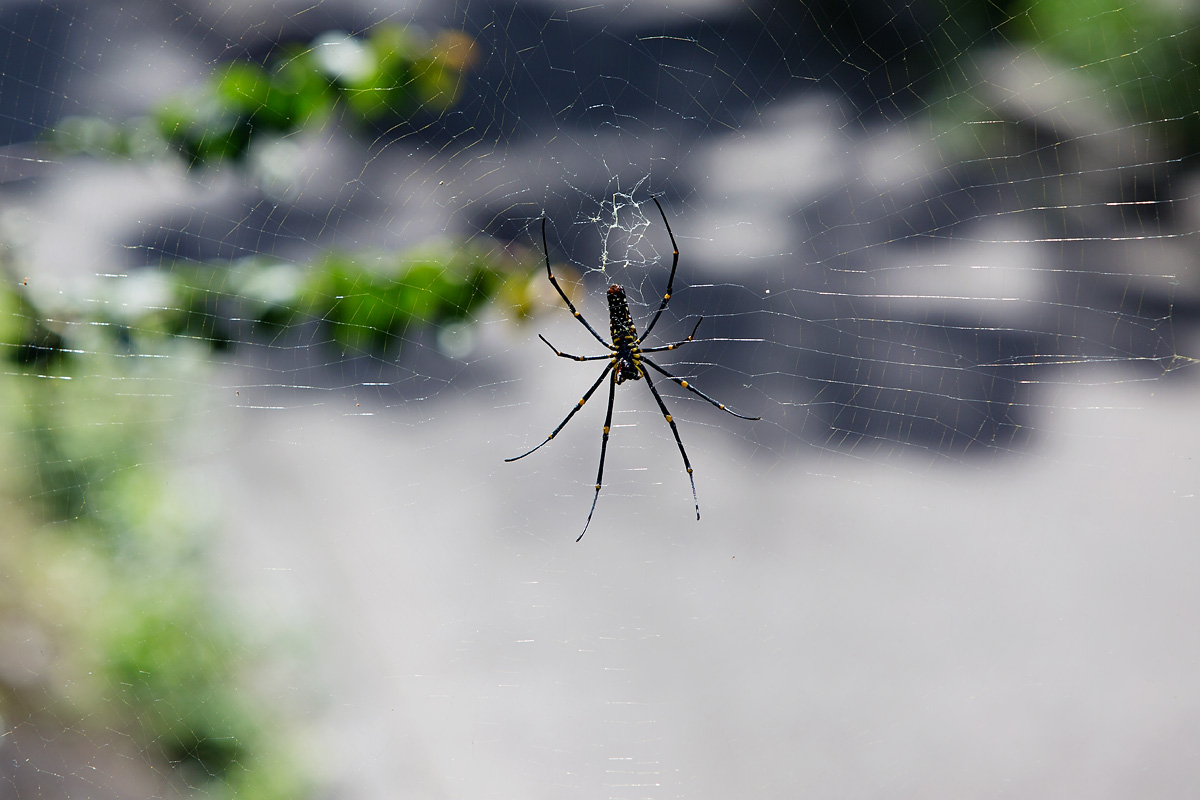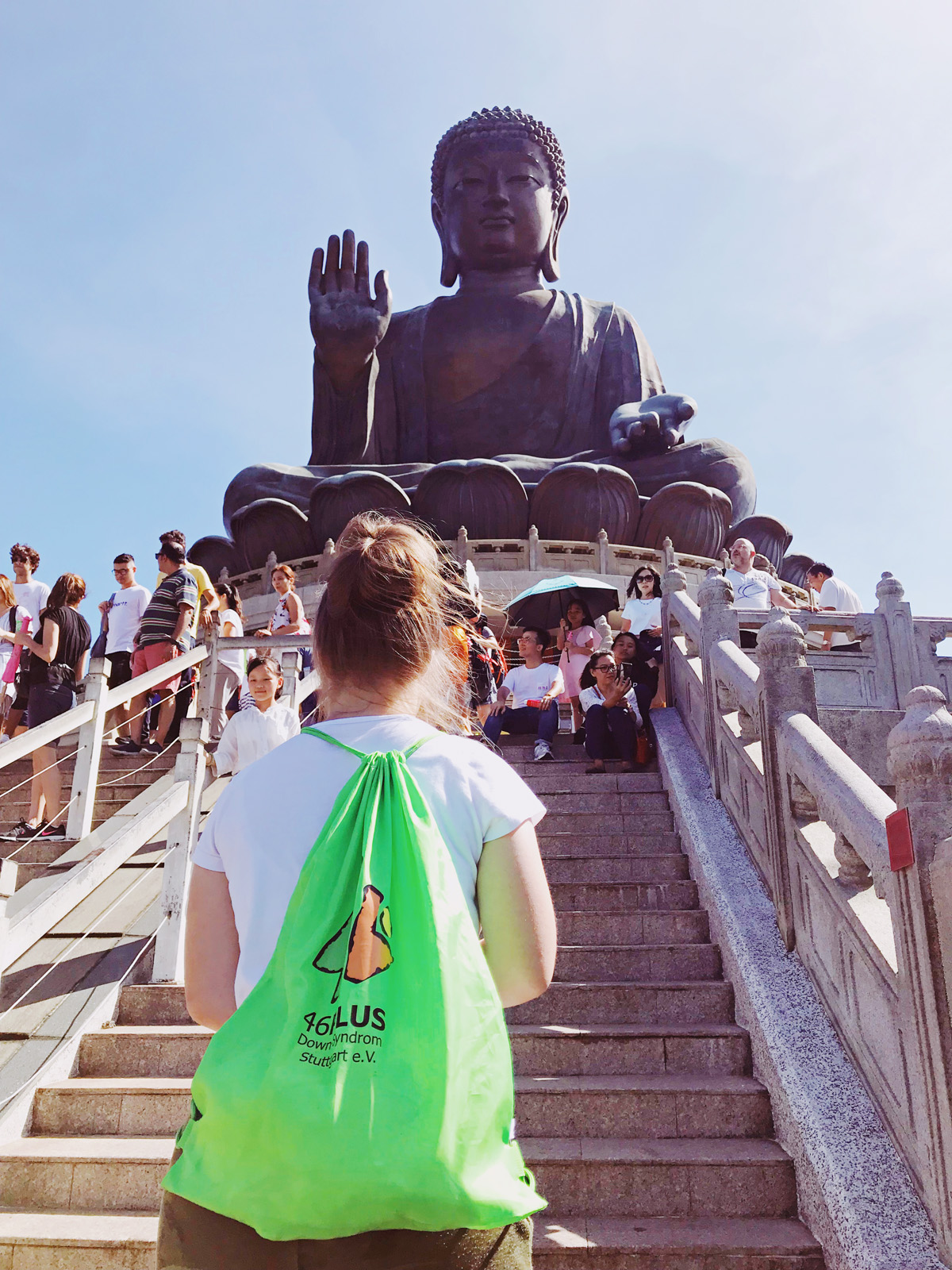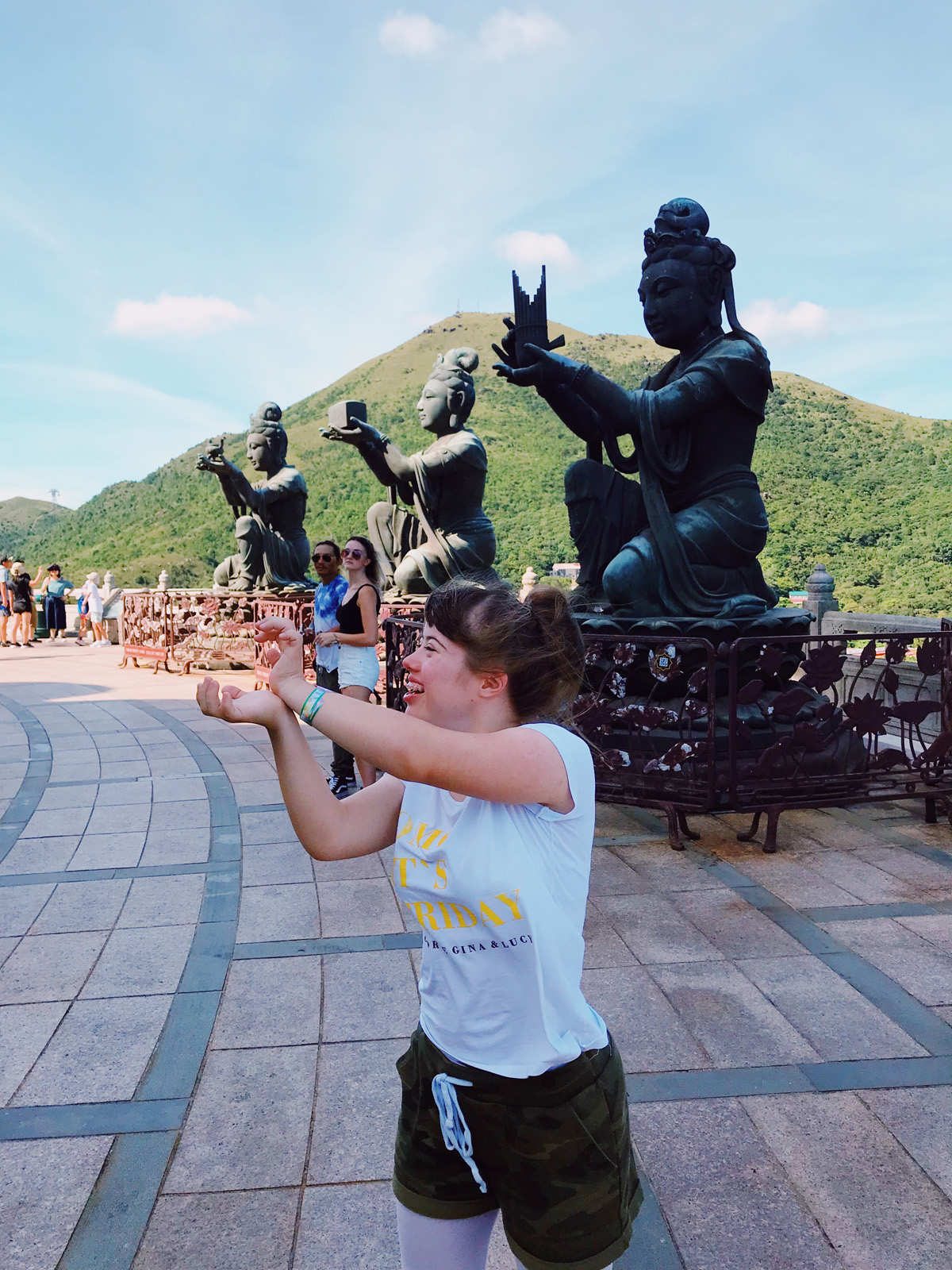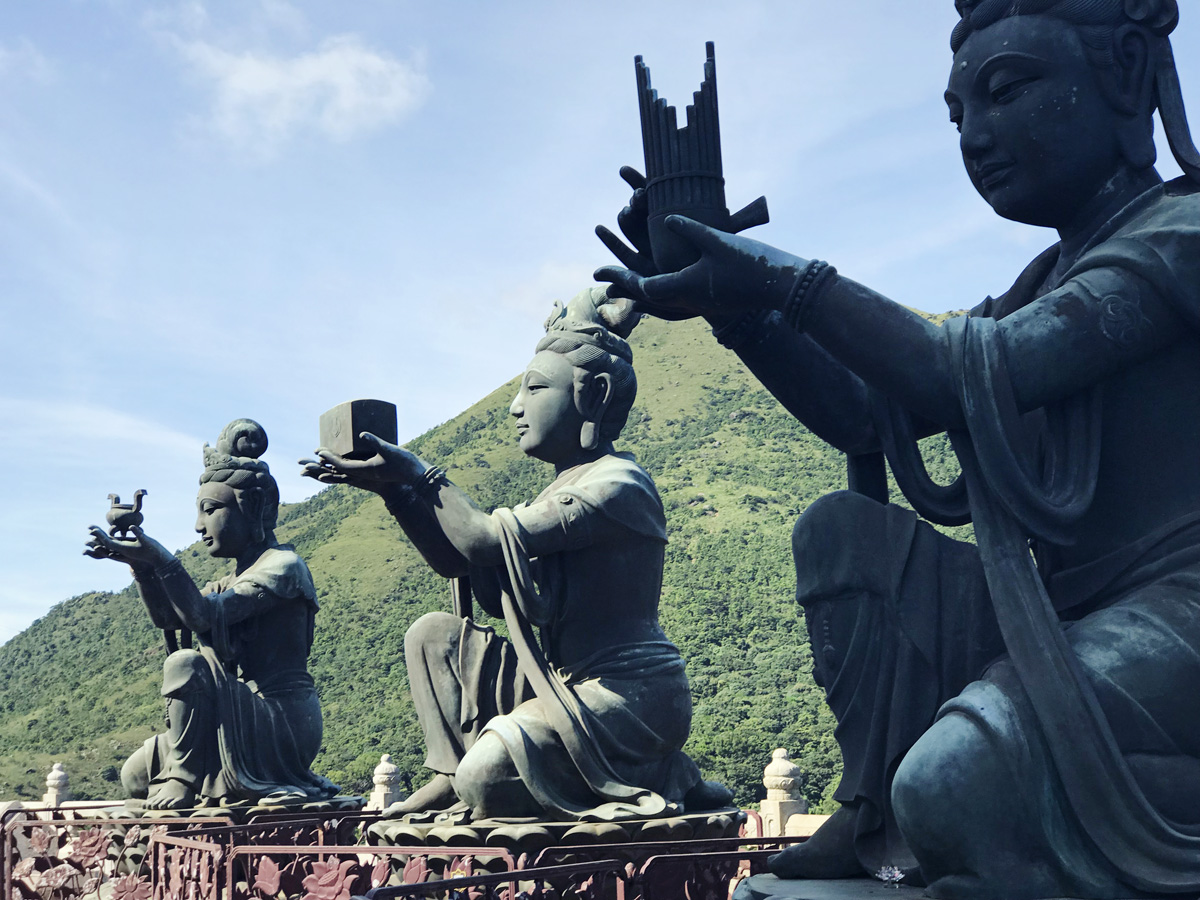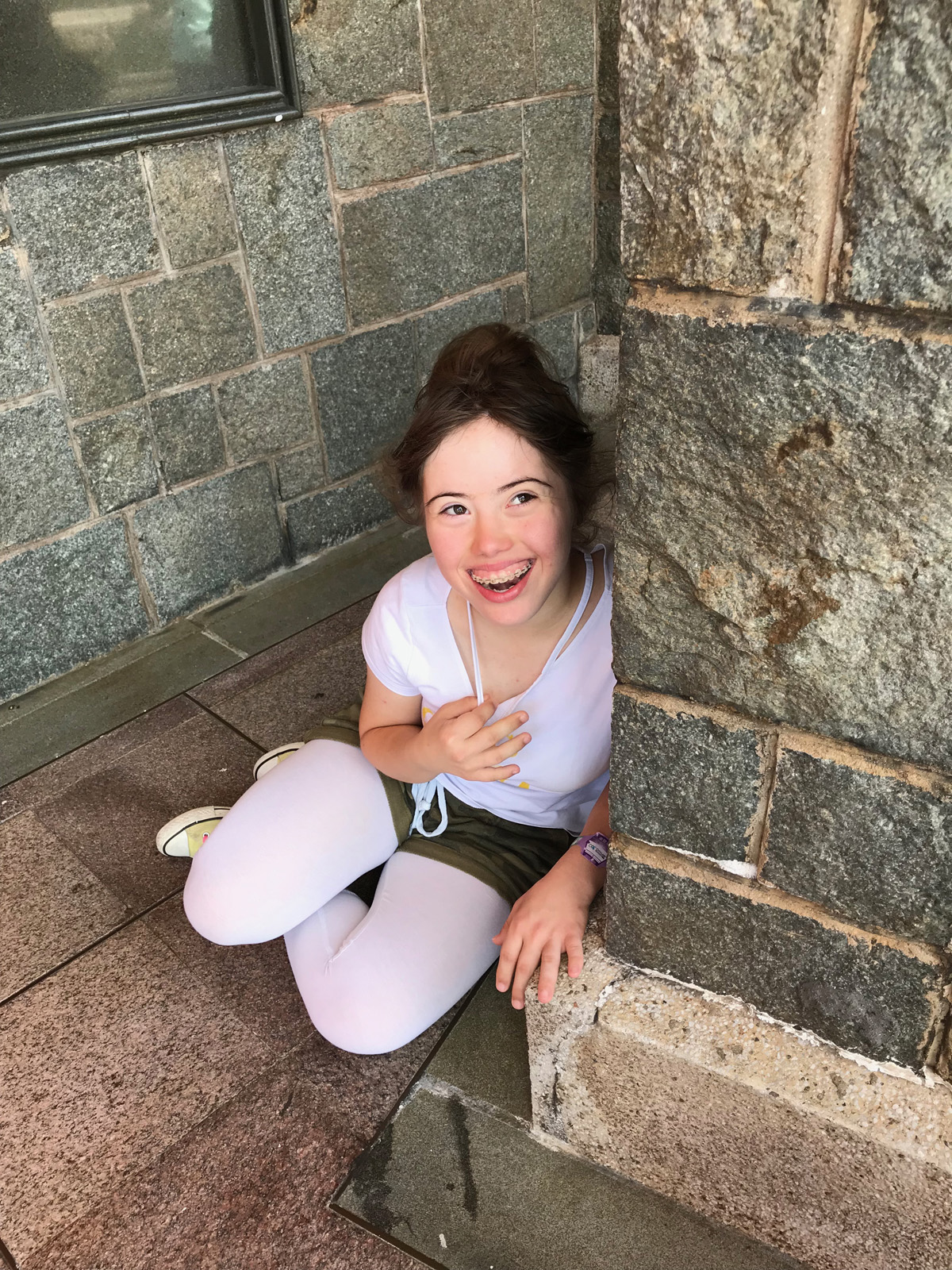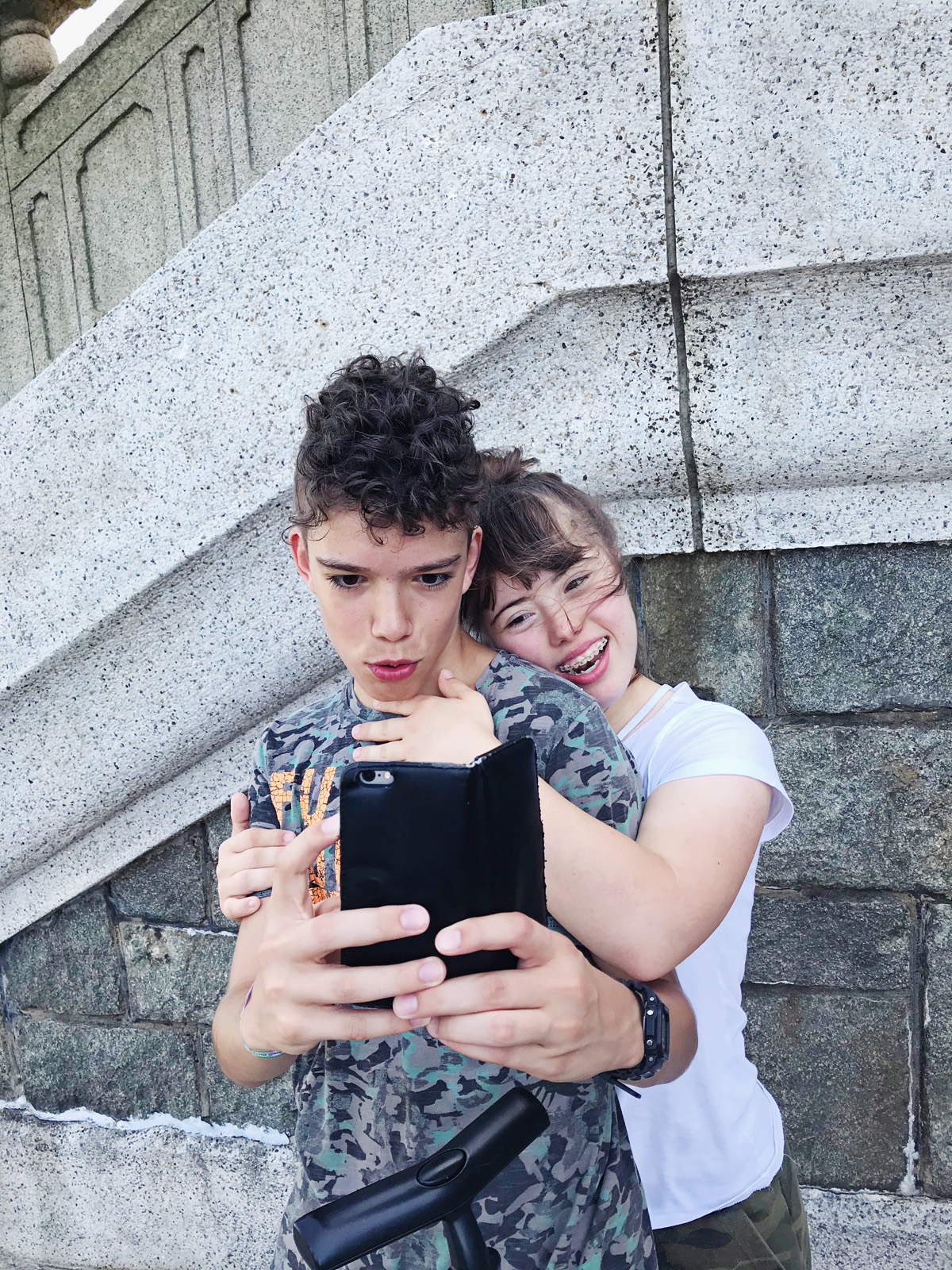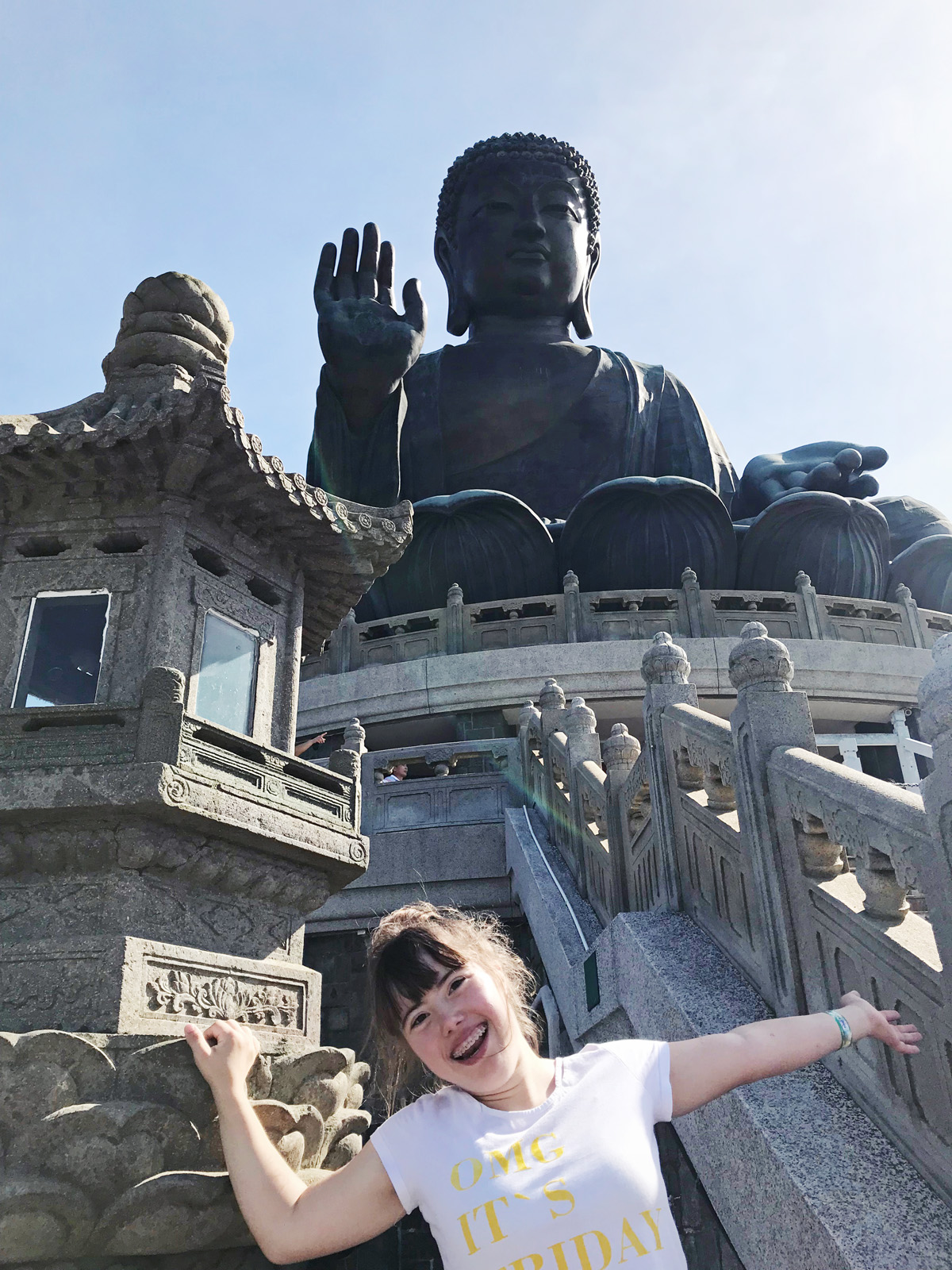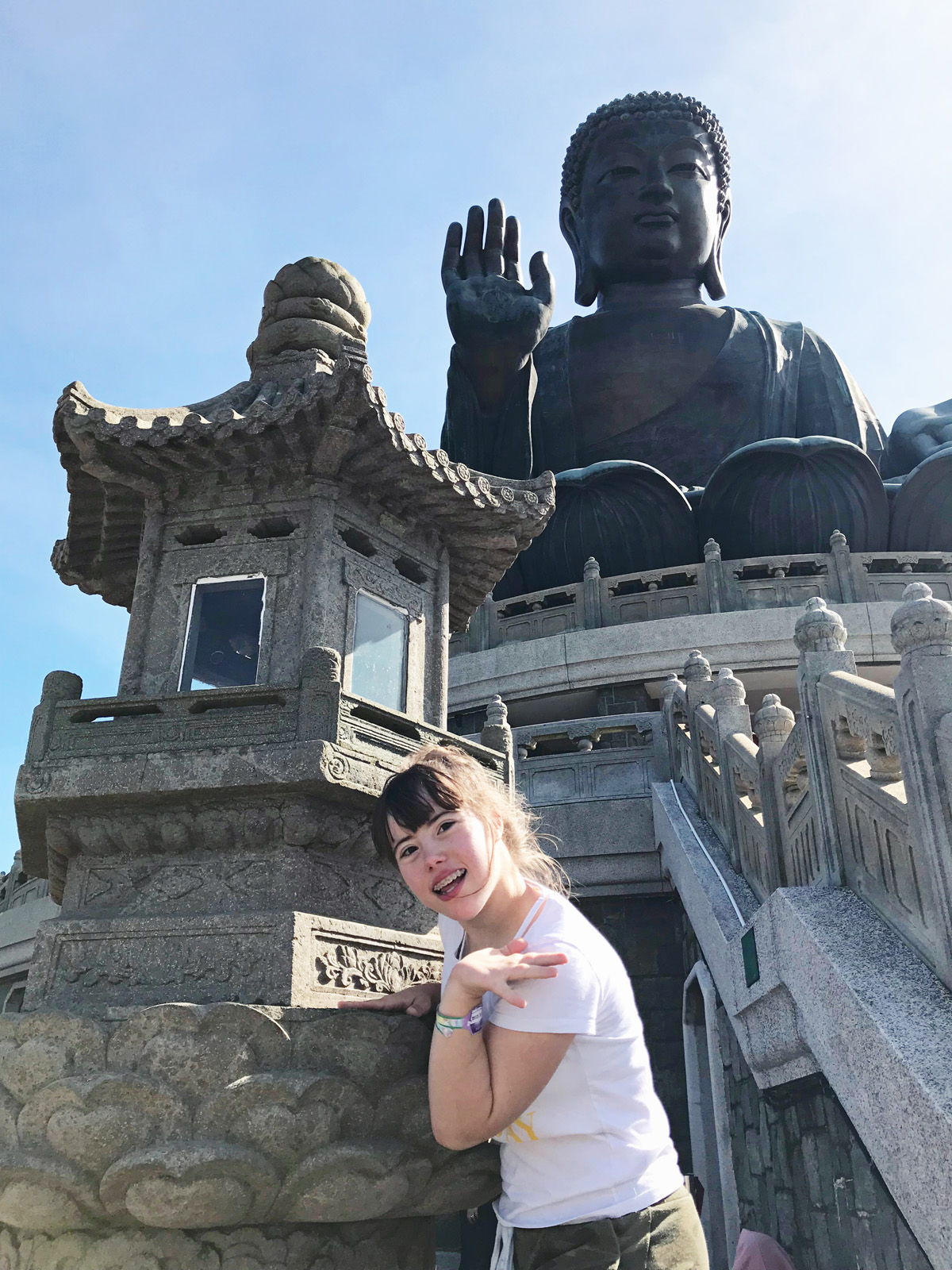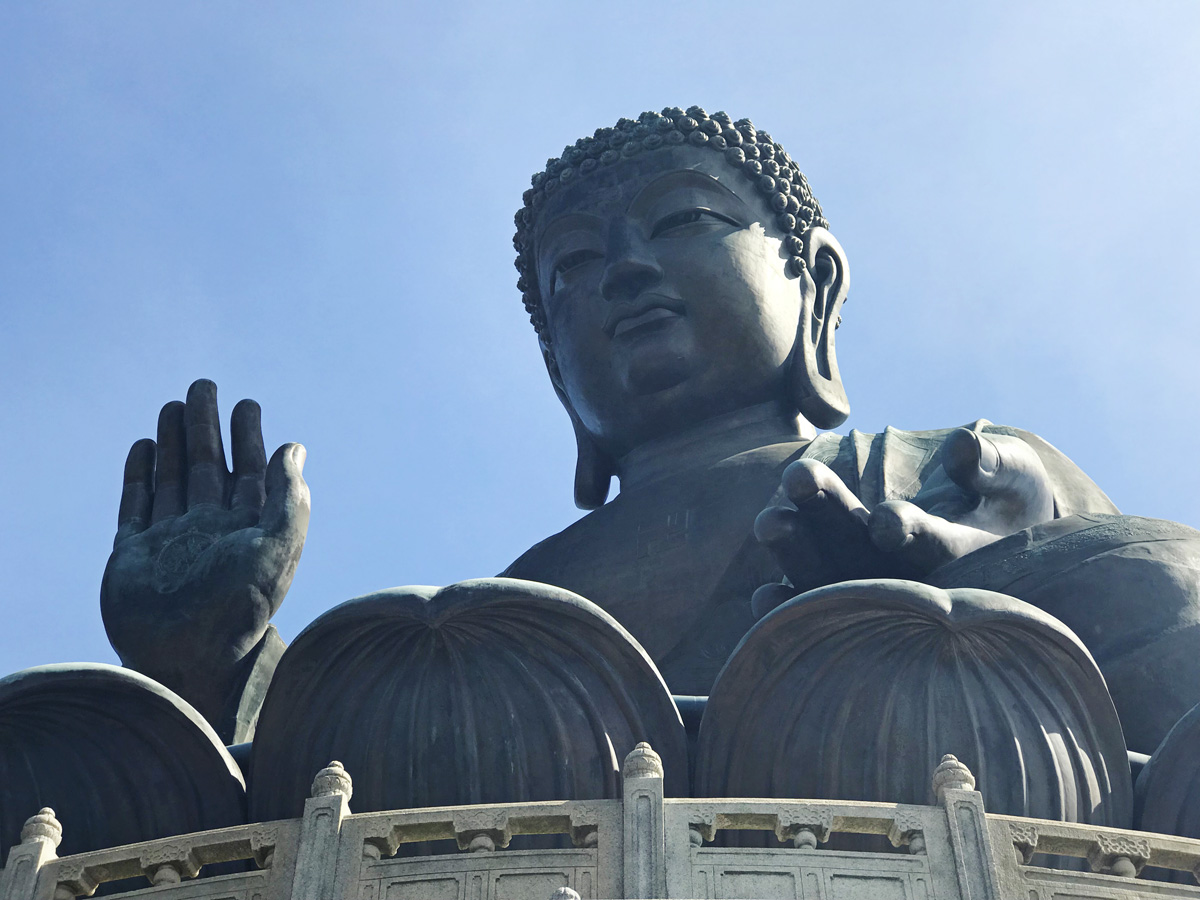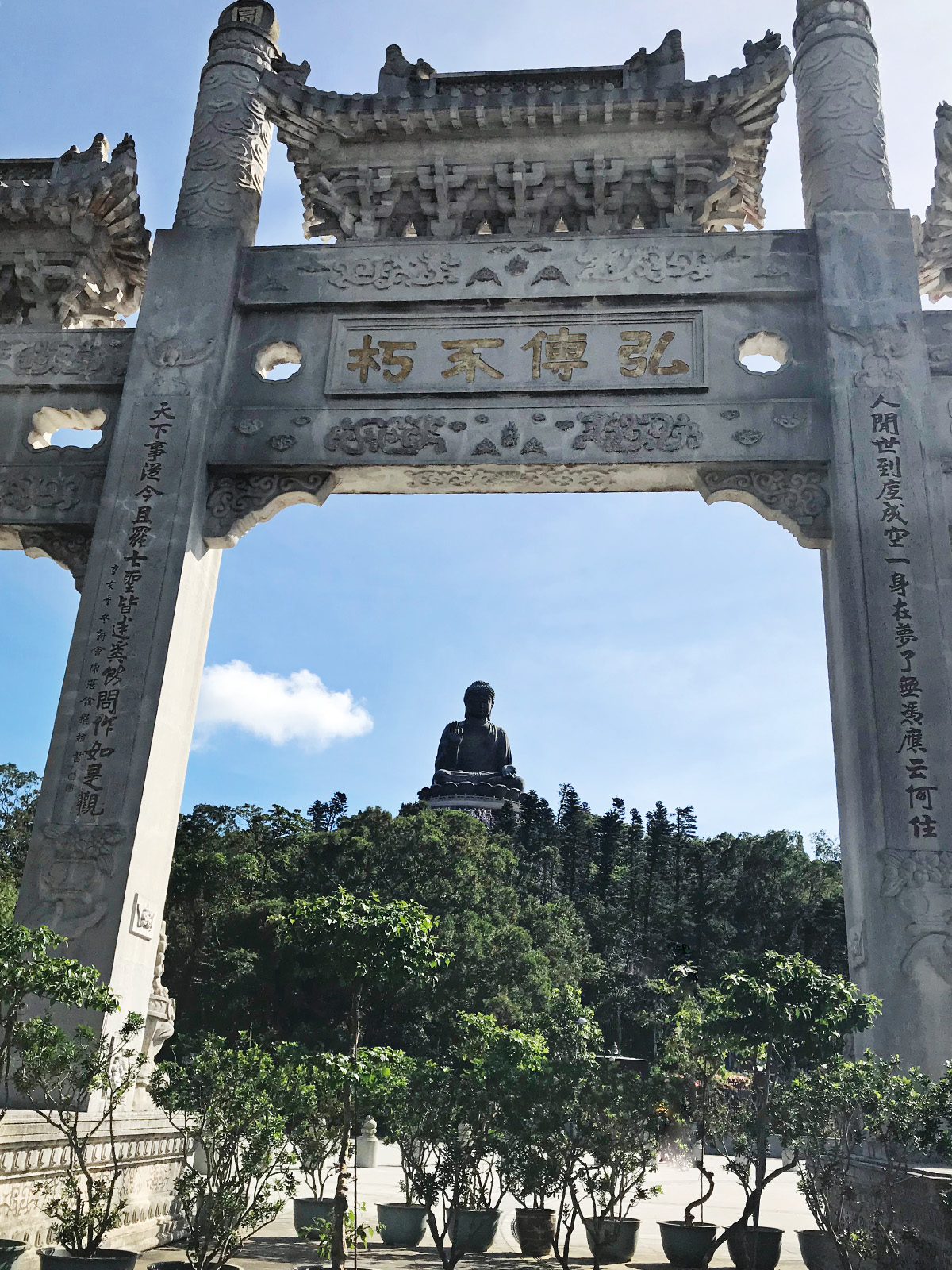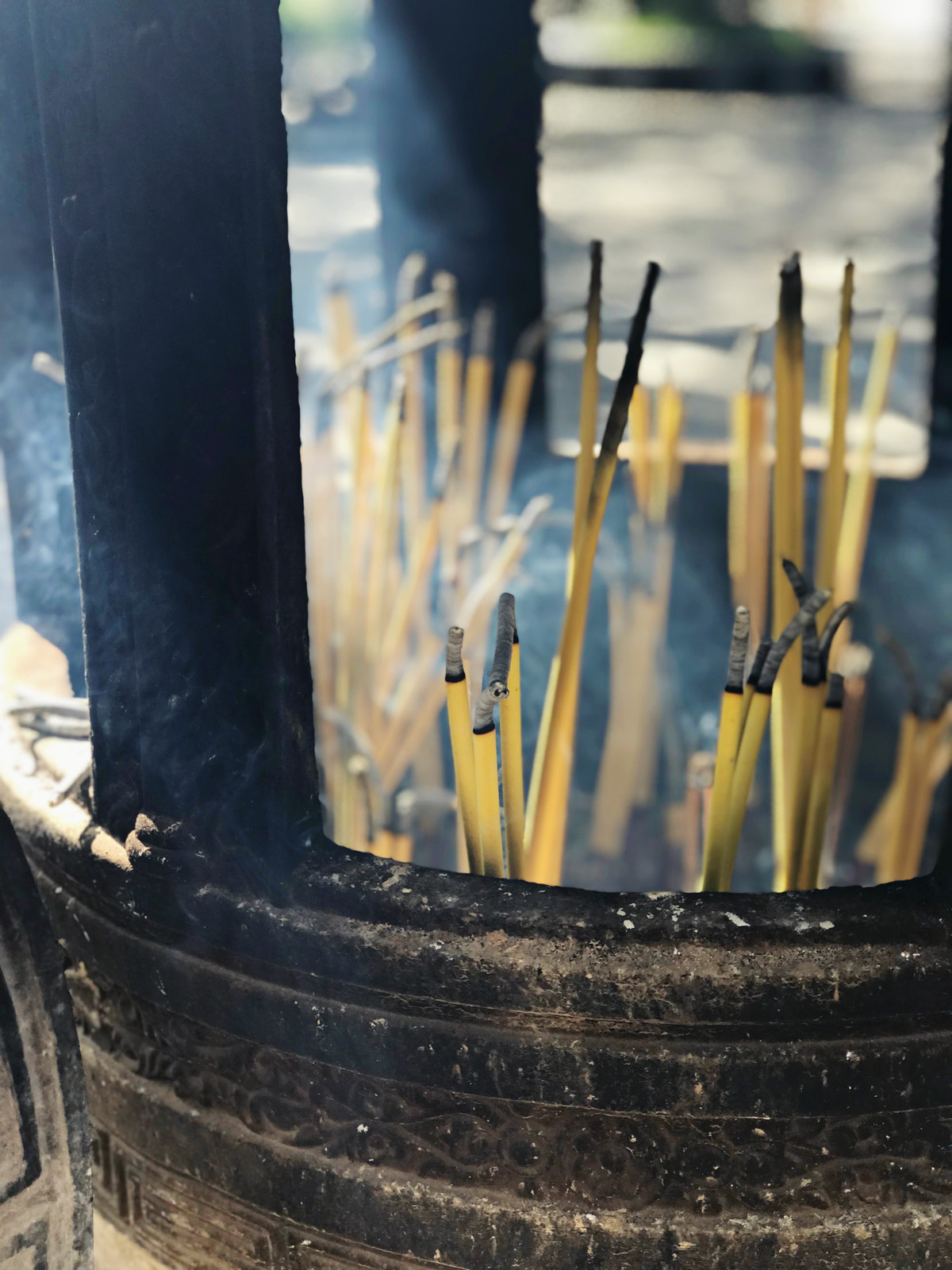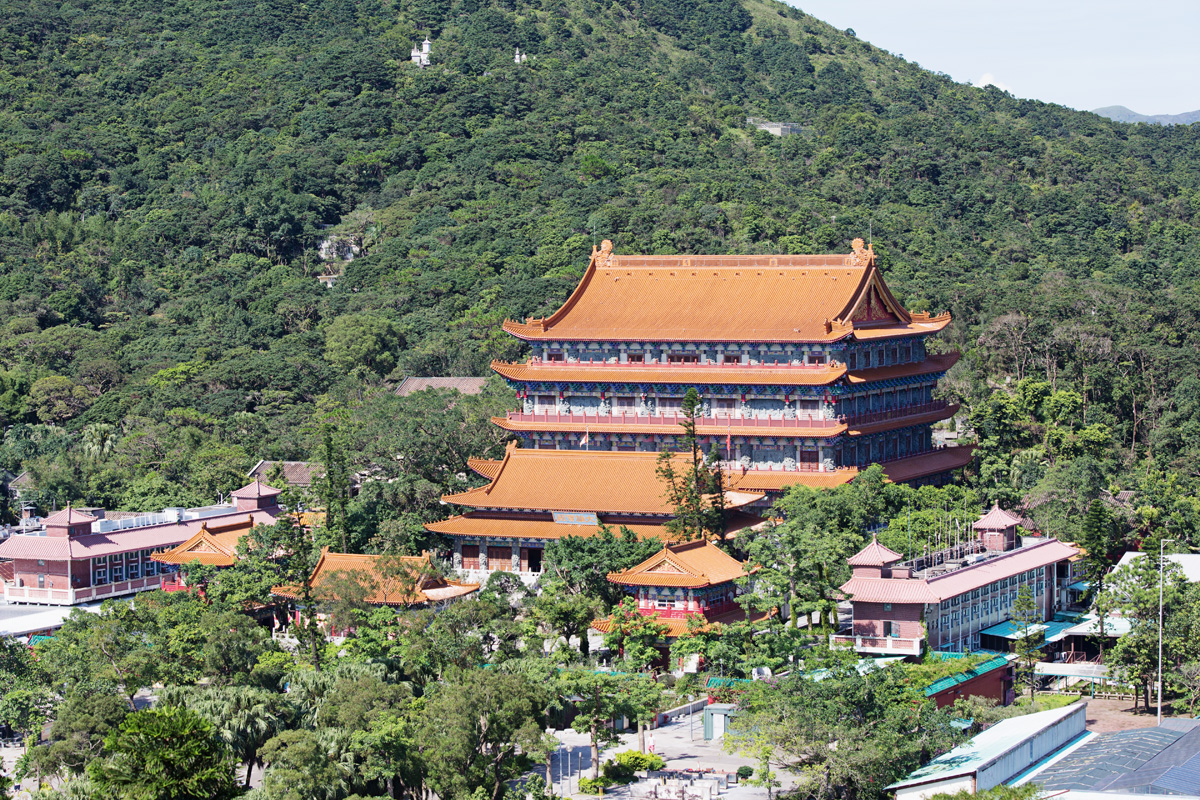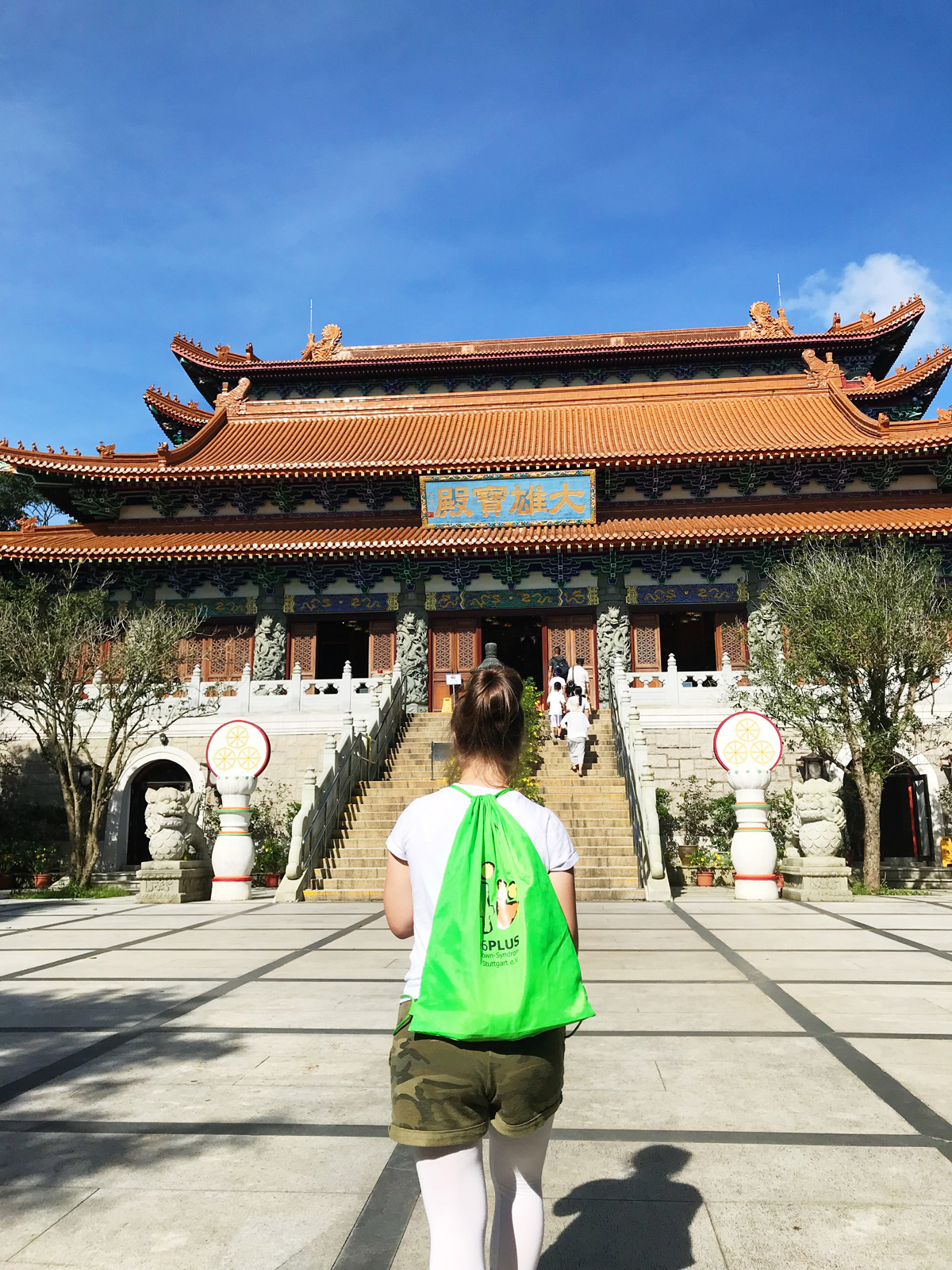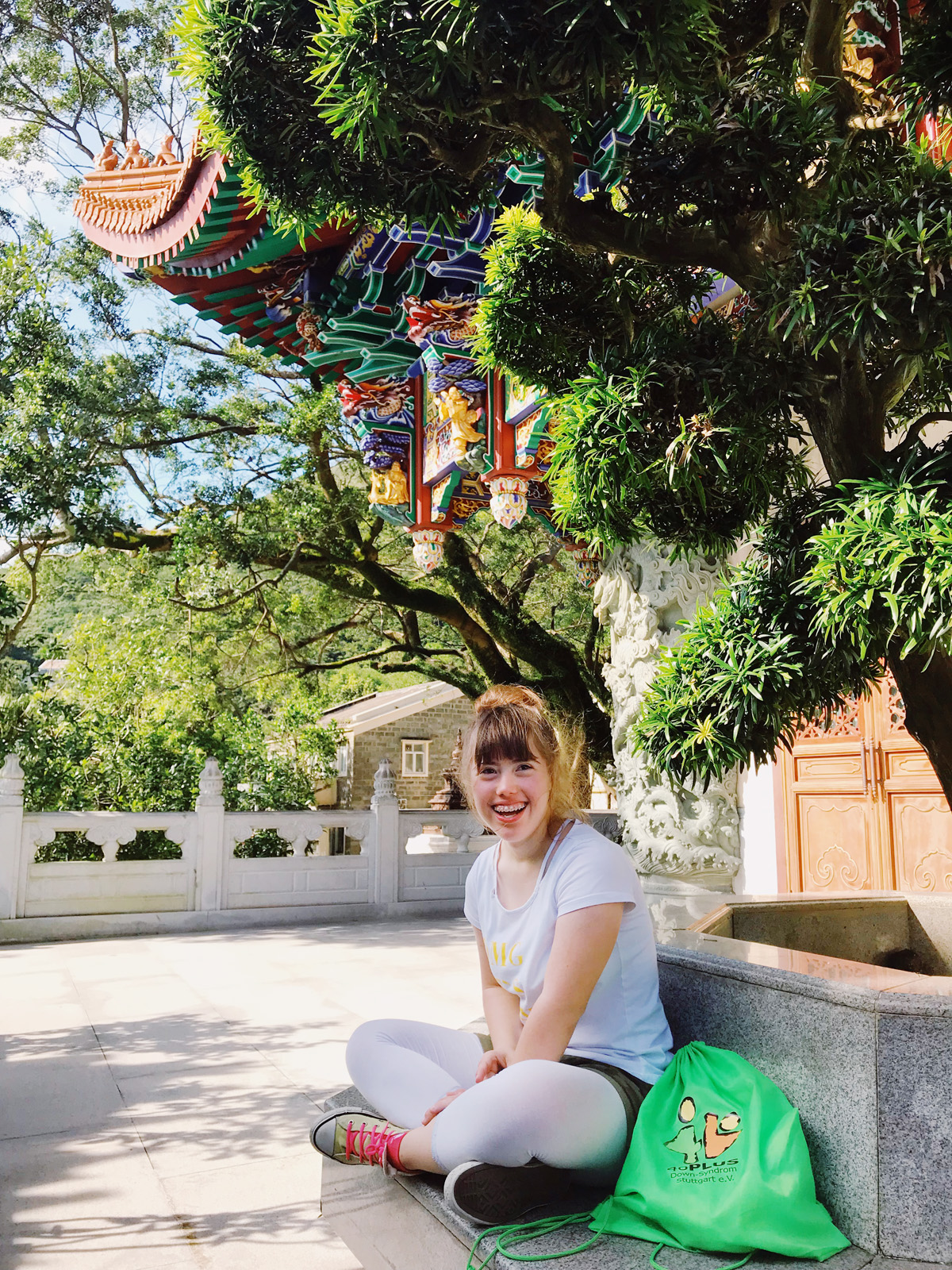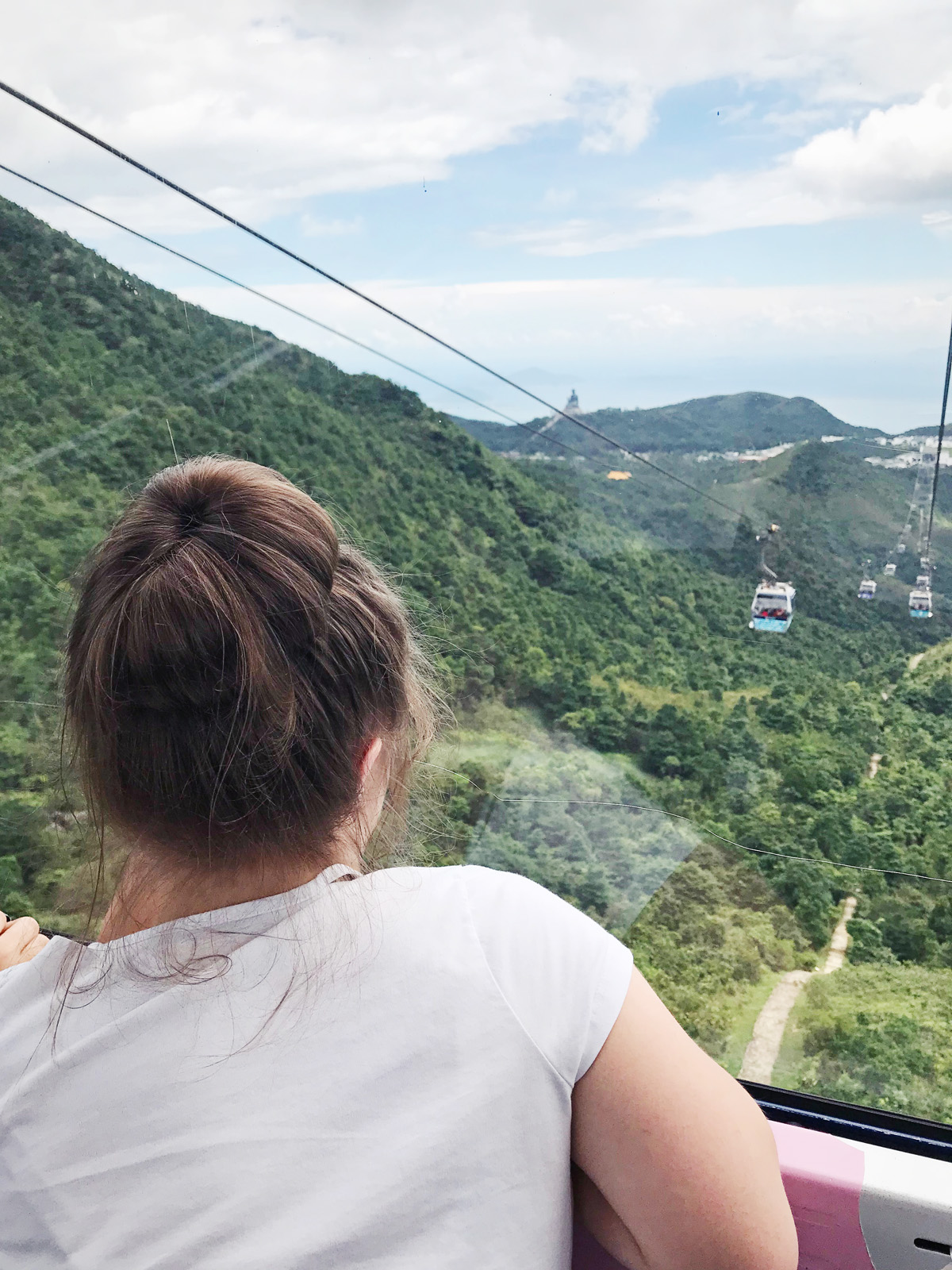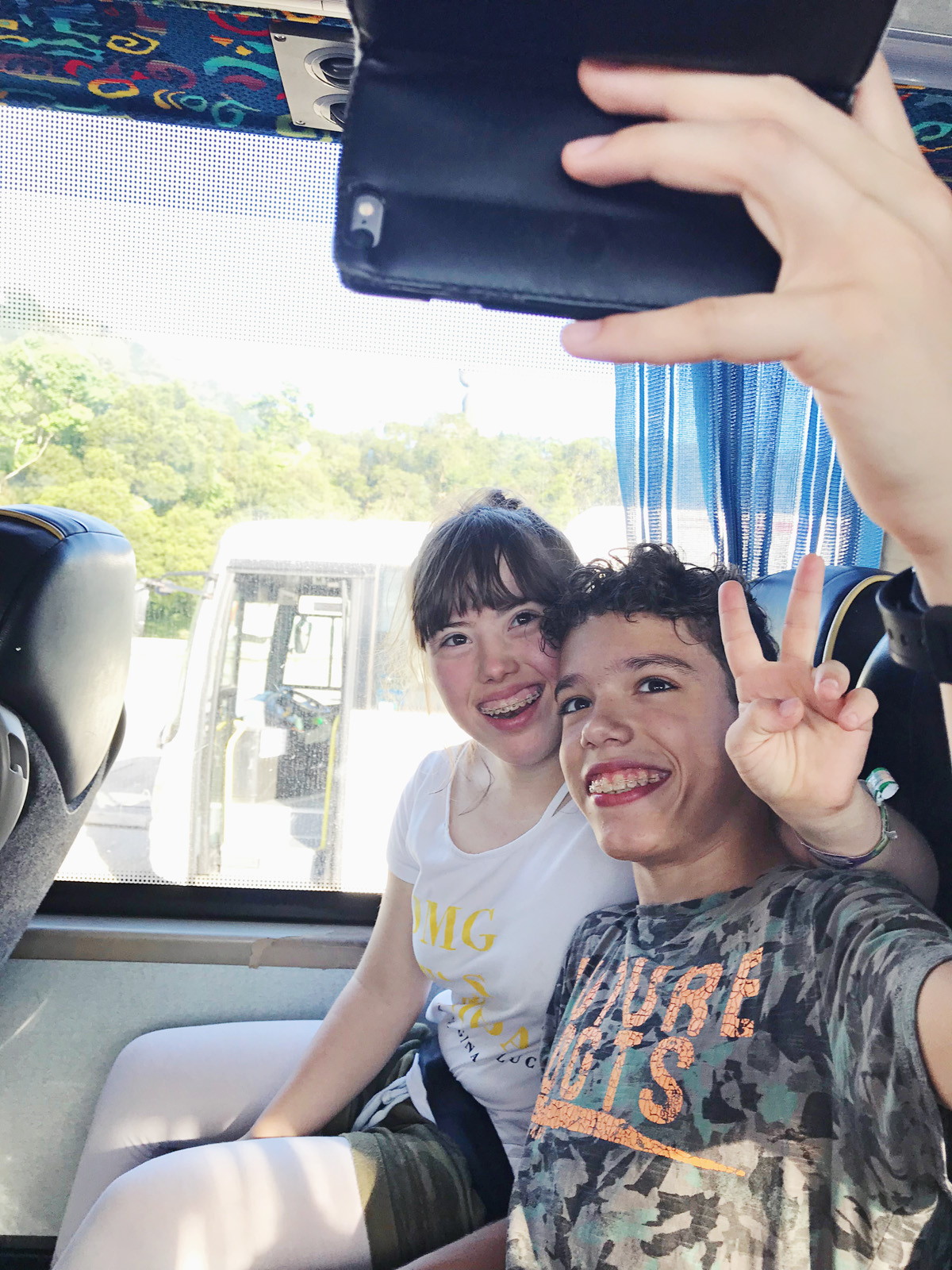 TAI O VILLAGE
From the Tian Tan Buddha we took the bus to get to the beautiful authentic old fishing village of Tai O with its picturesque stilt houses. We tried their legendary fish balls and enjoyed a little boat trip.