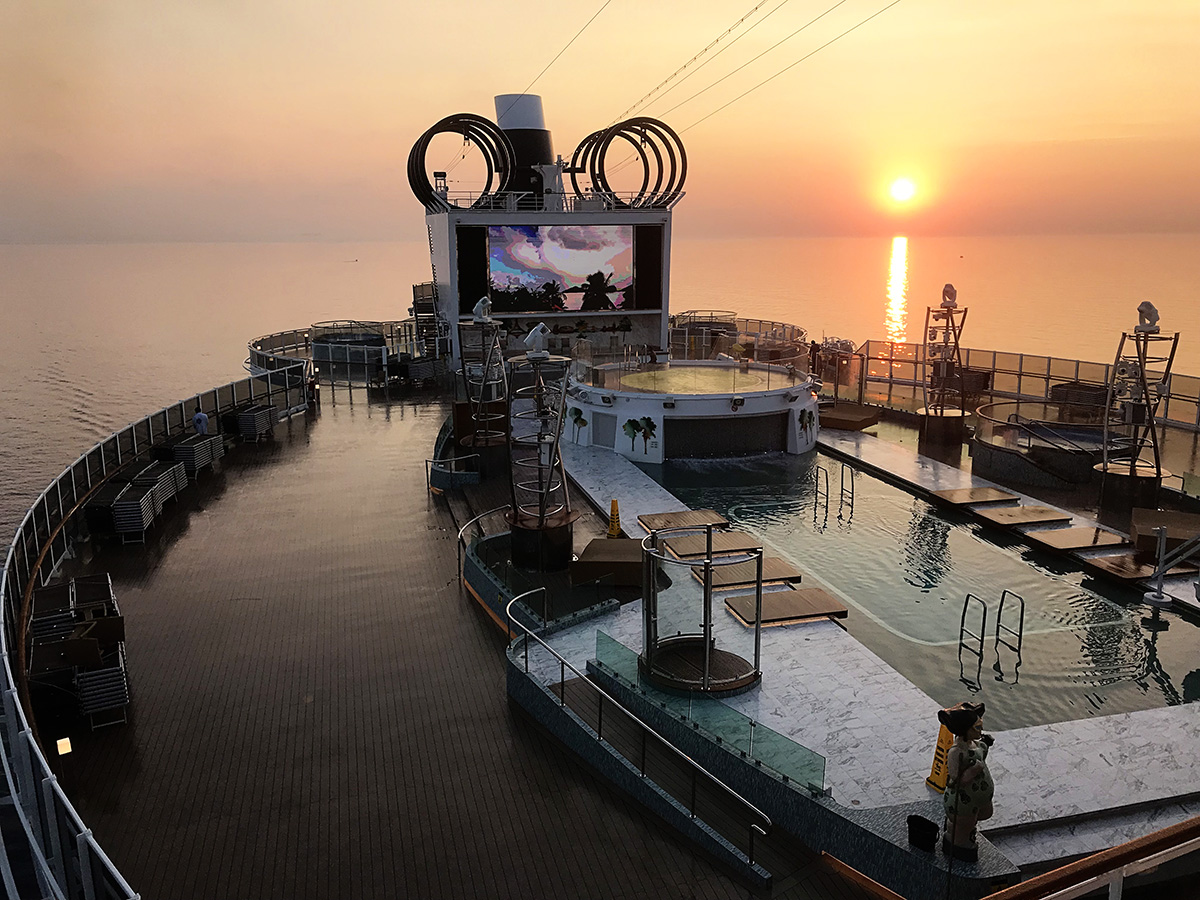 11 Aug

OUR FIRST TIME ON A CRUISE SHIP

This summer we tried something new: we hopped on a cruise ship to explore the Mediterranean Sea and all its beauty. One of our family members had wished for this once-in-a-lifetime-experience for her big birthday, and her wish was most certainly our command. 😉

Today I would like to share a few impressions of this amazing trip who still has us in total awe. I never pictured myself as a cruiser kind of gal, but I am still totally overwhelmed by this experience, and I can see now all the hype and why so many people are seriously addicted to cruise shipping. First of all, I was highly impressed by all the infrastructure and logistics of managing an astounding 5,179 board guests and and addititional 1,413 crew members. Holy moly, that's a floating town! For a highly sensitive person like me this would be normally the absolute overkill. But it was not. Believe it or not, but it never felt crowded, and everyone seemed to have plenty of space. Besides on the pools, and at lunch and dinner time at the "all-you-can-eat" buffets. But you can work your way around all that craziness. Most of the time, I just enjoyed my favorite spot on the ship: our little balcony deck and watching the world go by. Gazing at the gorgeous blue of the ocean gave me such a sense of calm, peacefulness and clarity. It offers a new appreciation for all the blessings in your life and nature all around.

The food was well above expectation and always focusing on the regional specialties along the way. In "our" restaurant we could choose between five heavenly menu options, and Juliana was the happiest girl on the planet cause even she could choose between several glutenfree super delicious menu courses. My girl in glutenfree heaven!

It was super exciting to wake up every morning to a new Mediterranean hotspot (Genova, Naples, Messina, Malta, Barcelona and Marseille), and to just leave the ship without the hazzle of dragging large baggage over cobblestones and neverending staircases, or packing and unpacking, and the pleasure of just returning "home" in the evening. But I also missed to have more time to soak up all these beautiful locations to the fullest. It's in and out. Well, at least it gives you an idea whether you wanna come back to some of them or not. Taormina, Sicley, definitely yes!

The kids loved everything about the 323-m-long floating city, it was definitely a vacation experience unlike any other. For them it was like Birthday, Christmas and Easter altogether. Their eyes sparkled as bright as the sparkling Swarovski crystal stairs on four of the floors.

Life on a cruise has no boring moments. The kids didn't mind the queues on the super long pool slides, and the overcrowded swimming pools. They loved exploring this huge floating amusement town, and couldn't believe that there is zip-lining, formula-one-simulator, bowling, 4D cinema, theater, casino, games, icecream parlors … you name it … all within minutes of reach. They definitely had a blast.

Luckily the weather cooperated and we navigated through a quiet and smooth sea and didn't have to push through any storms, so we never experienced the slightest case of sea sickness. In fact, I never felt we're on a boat.

I am utterly grateful for this amazing trip, and will always remember the big smiles of each family member. Although this was such an incredible once in a lifetime experience, and we all enjoyed it to the fullest and can highly recommend it, I am not so sure whether you'll see us on a cruise ship again any time in the near future. I guess we are more the soaking a place all in kinda people, and don't wanna feel rushed from destination to destination. And I have to admit that although I love the ocean and its healing powers during the day, at night it really scares me. Seriously, I guess I suffer from some minor form of Thalassophobia. And lastly after now I have learned so much about these huge ocean liners, my environmental and sustainability conscience has also kicked in.

My little travelogue starts today with a few images of, on, about and around just this gigantic vessel floating around the Mediterranean sea (taken mostly with my iPhone), as I didn't wanna overload you with way too many impressions, hehe. Our destination adventures will follow next week in a post or more. Until then, please enjoy and hope to see you again next week!