Schon immer war es Tamaras größter Wunsch gewesen, Model zu werden. Auch ich weiß, was Mode ihr bedeutet und wie sehr sie es liebt, mit der Kamera zu flirten. Vor elf Jahren begann unsere abenteuerliche Reise und Tamara Röske stand das erste Mal für mein Buch "Außergewöhnlich: Väterglück" vor meiner Kamera. Es folgte mein Buch "Freundschaft", in dem ich den beiden Cover-Girls Tamara und ihrer besten Freundin Giuliana ein ganzes Kapitel widme. 2010 wollte ich es endgültig wissen, und fuhr mit Tamara nach Paris. Ich hatte bis dato bereits etliche Modeaufnahmen von schönen Models für Kataloge, Sed Cards und Lookbooks gemacht, aber jetzt wollte ich wissen, wie es wohl sein würde, ein Model mit einem Chromosom mehr vor der Linse zu haben.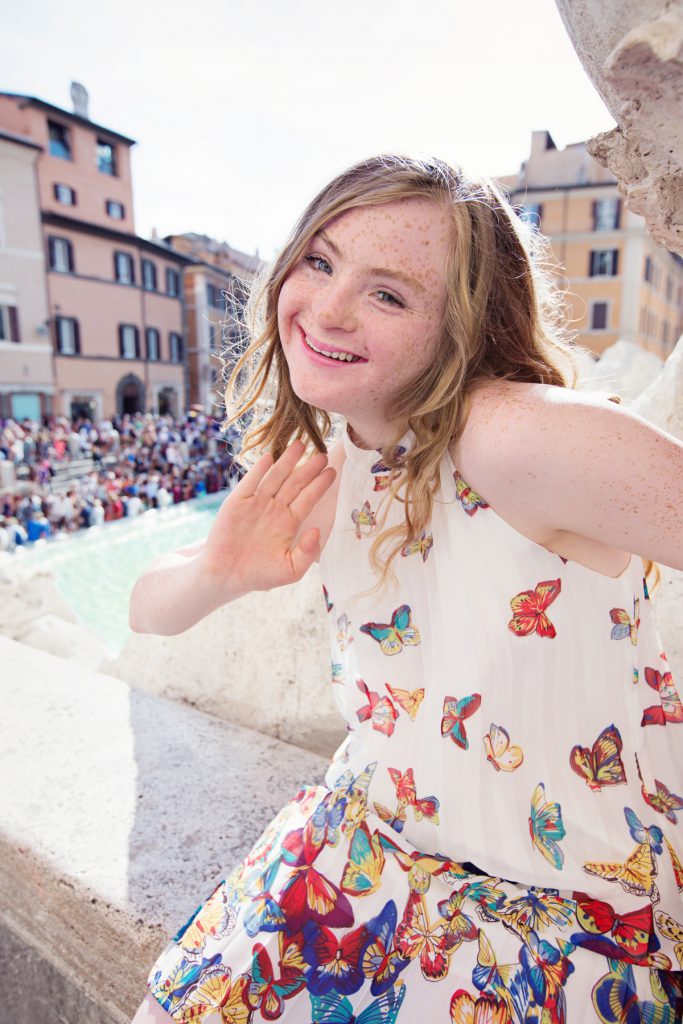 Unsere Paris-Reise entpuppte sich als eine meiner schönsten und unvergesslichsten Erfahrungen und so entstand der Bildband "The Girl with the Freckles". Ich wusste, eines Tages würden wir dieses Abenteuer wiederholen. Und so machten wir uns letzten Sommer auf nach Rom.
Zurück kam ich nicht nur mit jeder Menge Bilder von diesem wunderschönen Mädchen mit den Sommersprossen, nein ich wusste auf einmal auch, dass einfach alles möglich ist, wenn man nur fest an sich glaubt und hart für seine Träume arbeitet. Nach unserer Paris-Reise hatte Tamara nun endgültig (Model-)Feuer gefangen und, aber es hagelte eine Absage nach der anderen, manchmal mit so absurden Begründungen wie "sie hat viel zu viele Sommersprossen".
Doch Tamara gab nicht auf. Nichts in der Welt konnte sie von ihrem Traum abbringen. Wenn man sich einem Traum komplett hingibt, dann öffnen sich einem irgendwann alle Türen, und zwar meist dann, wenn man gar nicht damit rechnet. Damals hat es zwar nicht gleich mit einem Model-Job geklappt, dafür ergatterte Tamara zwei Hammer-Angebote beim Film (Fack ju Göhte III) und im Fernsehen (Die Toten vom Bodensee) – einfach unfassbar! Auf einmal trudelten auch die Model-Jobs nach und nach ins Röske-Haus.
Tamara ist ein echtes Vorbild und immer wieder ein Mutmacher. Sie hat mich so sehr inspiriert, dass ich unsere kleine fotografische Reise nach Rom in einem eBook festgehalten habe. Die wunderschönen Bilder von Tamara nebst meinen Lieblingssprüchen und Zitaten wird es vorerst leider nur in digitaler Form geben, denn ich habe dieses Jahr bereits ein (analoges) Buch herausgegeben.
"Anything is possible" ist nicht nur für alle Tamara-Liebhaber gedacht, sondern auch für all diejenigen, die immer mal wieder eine kleine Ermutigung gebrauchen können und eine Erinnerung, dass alles im Leben möglich ist, wenn man fest an sich glaubt und hart für seine Träume arbeitet.